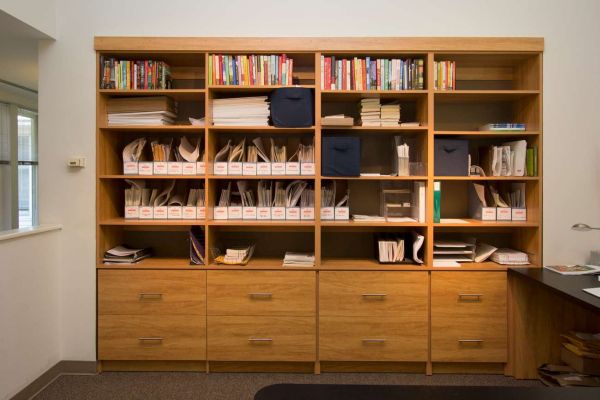 The study is one of the more personal rooms in the house that would need to reflect an individual's personality and individual traits. Considering the fact that it is more of a room where serenity is of utmost importance, one should keep the room furnished and organized in such a way to promote productivity while reducing distractions to a minimum. If you are thinking of doing up the study room in your home, here are 8 décor tips that you would find extremely useful.
Set up storage cubbies along the wall
Instead of standalone storage cupboards, consider using the walls to set up shelving units or storage cubbies that can be used to store your favorite books and accessories. Place a few simple stools or ottomans beneath these cubbies and you have a personalized reading spot ready to welcome you. In addition to offering a refined look, this arrangement would ensure minimum wastage of space.
Build a custom bookcase
If you have the space along with a whole lot of books that simply wouldn't fit into the storage cubbies or shelves, consider dedicating an entire wall of the study room to a custom made bookcase. In addition to ensuring that all your books get their own dedicated places on the bookshelf, you can choose from innovative bookshelf designs to enhance the studious effect of the room.
Consider open shelves
If you are pressed for space in the study room, set up open shelves that would make the room look more spacious. You can also opt for wall-mounted desk in order to increase the square footage area of the floor. That done, you can use the rest of the available space for alternatives like a window seat.
Use wall décor
In addition to painting the study room, you can opt for an interesting wall décor to highlight the purpose of the room. Paste posters of your favorite authors and books. Or, you could hang something more personal like a handmade decoration make the room look livelier.
Set up a cozy reading corner
A study room need not be all that serious. Sure you need the table and chair for study related elements. However, if you like to just kick back your legs, relax and unwind with your favorite book occasionally, we recommend setting you a comfortable, cozy reading corner that would let you enjoy your book undisturbed. Remember that the reading corner needs to be more laidback. So choose a spot by the window and throw in either a mattress or a comfortable cushion chair to get the desired look.
Personalize the study
Although we recommend minimum intrusions or distractions in order to help you concentrate on your work, the absence of a personal touch can leave the room looking bare and disinteresting. So opt to personalize it just a little bit (like marking your territory) by adding some photos, art pieces or other items to the bookshelf, storage cabinets and work desk.
Connecting shelves
A great way to maximize the use of a narrow study room would be to opt for shelves that connect with each other at the ends of the room. For instance, two walls of the room lined with bookshelves can meet at a reading corner near the window at the end of the room. The continuity in décor would make the small room look very cozy, creating the perfect ambiance for you to relax and grab your favorite book.
Fireplace
In the olden days, study rooms used to have their own fireplaces in order to offer a nice, warm atmosphere for those who wanted to read a book or two. You can opt to choose the same design for your study as well, provided you have the space and money required to install a fireplace in the room.
Summary
Add more charm and substance to your study by having it personalized and customized to match your requirements.