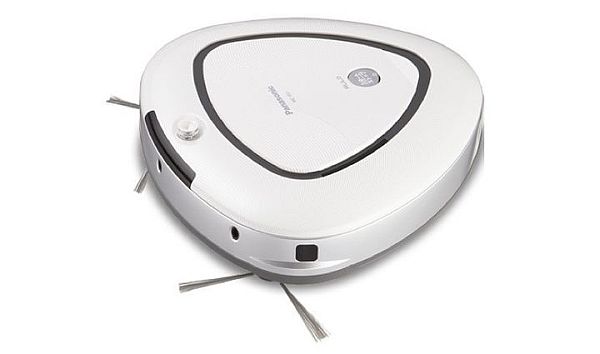 While cleaning is an important part of life, people have found different ways to make this task easier. Robotic cleaner is a modern and efficient way to get cleaner homes. With the increasing demand of such efficient cleaners, more and more companies are coming forward for contributing in making of such cleaners.
Robotic cleaners have many benefits as compared to other normal cleaners. While robotic cleaners save a lot of time, you do not have to spend hours for cleaning home. With robotic cleaners, you are not just saving time but also minimizing your workload. Keeping in mind needs of modern homes and different people, here are some robotic cleaners for getting a cleaner and better home.
Clean annoying corners with MC- RS1 Rulo Triangular robotic cleaner
Spherical or round shaped robotic cleaners find it hard to reach the corners. You end up irritating yourself, as you have to work harder for cleaning those annoying corners. To sort out this difficulty, Panasonic has created triangular robotic cleaner named MC- RS1 Rulo. Rulo comes in a triangular shape, which helps in reaching the corners of the room. With built-in dust sensors, you will get cleaner floors. The rotating brushes can take out dirt and dust from all the corners. With this robotic cleaner, you are getting cleaner and better home without putting in much effort.
Room tidying pick- up robot
With kids' toys lying here and there in a home, we get irritated picking them up repeatedly sometimes. With room tidying pick- up cleaner, you are not just getting a cleaner, but also a baby toys picker. When you see toys and other stuff lying in room here and there, just switch this cleaner on, and it will do the rest. Room tidying pick-up robot cleans up the home using it hands. Whenever it sees anything on the floor, listening to your command, it picks up objects and other stuff and stores them in its cargo bed. With this robot cleaner, you do not have to bend down to pick up anything.
Samsung's Smart Tango
Having cute stylish design, Samsung's Smart Tango robotic cleaner is a smart way to keep your homes cleaner. Smart Tango Cleaner robot is only 3 inches tall, about 14 inches across, and weighs 7 pounds. Moreover, it has 12 high performance sensors, which allows better and cleaner rooms. Smart Tango consists of a wide 204mm brush, and dual CPU that fosters faster cleaning. Smart Tango is stylish yet efficient cleaner, attracting many people toward its beauty. Apart from being such a stylish and efficient robotic cleaner, it has four legs that support it continuously while it cleans the house. Moreover, with the power and setting buttons at the top, you can operate this cleaner easily.
Moneual's Rydis H67
Cleaning hard and carpeted floors at home is quite difficult. Owning a Moneual's Rydis H67, you are getting a chance to clean your home with three different modes. Hybrid, Vacuum, and Mop cleaning are three different modes, which make you home cleaner. Rydis is a 3.23 inches tall and with a shadow active cleaning mode, you can clean areas that do not receive direct light like underneath beds.
You can thus clean the home in the places you cannot see. Moreover, it is easy to clean, as it has 600cc dustbin for easy disposal and clean- up. By simply removing dust on filter and taking off the waste, you can use dustbin and filter repeatedly. Moneual's Rydis H67 is therefore a smart and efficient way to clean up your home and making it healthy and safe.
When your home is messy, it becomes quite difficult to clean it up. With different robotic cleaners available in market, you can choose a smarter way to clean your home and get a healthy and safe home. These cleaners are economical and time saving, which makes your life easy and stress free.