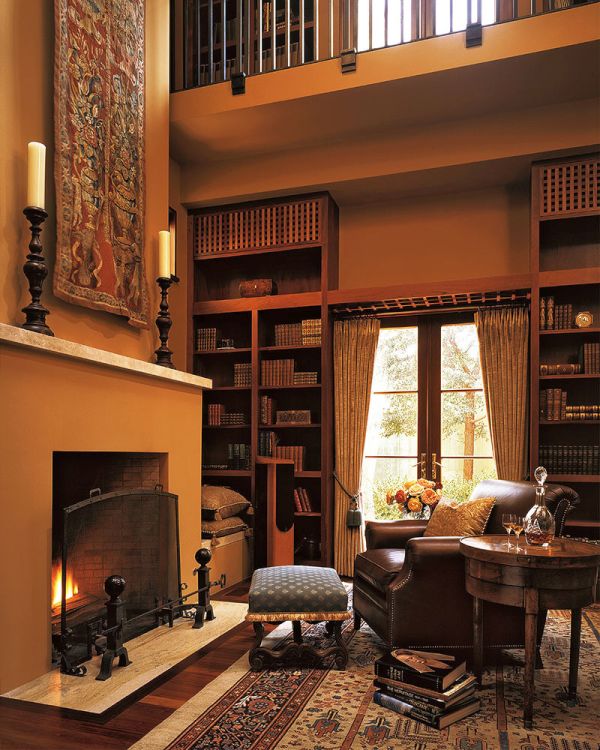 Having your own personal library at home can be a one of a kind experience. In addition to stirring your excitement as a reader, it would offer utmost privacy and comfort for you to snuggle into a corner with your favorite book in hand.
There is no limit to the number of feelings you experience when scanning the books in a home library. The perfect place for your imagination to take flight, a home library would definitely add a stately touch to your home. And here are some awesome library designs you can choose from for your personal collection of books at home.
Traditional Fireplace Library Design
Many classic home libraries are built around a fireplace, probably with the intention that the reader would spend some time reading books under the warmth of the fireplace on a cold, winter night. If you have space around the fireplace in your home, construct a library that engulfs to create a charming, old school look you will fall in love with for sure.
Decorative Home Library Design
Some like their library to have only books. Others prefer a more decorative touch by decorating it with home décor items interspersed among the books. You can alternate the books and décor items to create an interesting pattern.
The items you choose to display with the books can also be related to them in subtle ways. For instance, the library section with travel related books can have a miniature aeroplane model sitting next to it.
The section on sports can have a small football or rugby ball placed next to it. And the section that houses fiction stories can have cartoon images of the stories pasted on it. It all depends on how you want everyone to view your home library at the end of the day.
Travel Inspired Home Library Design
How about designing your home library based on some interesting sights you saw while traveling? There might be a tourist attraction in a country which really inspires you. You can design your home library to incorporate a key element of that sight so that you get reminded of the same whenever you look at it.
For instance, you can build arches in the bookcases to mimic the castle windows you saw in Belgium. Or you can choose to create a floral pattern on the wooden shelves to mimic the intricate carvings of the TajMahal in India. In addition to reminding you of these places, this would enable you to make your library look unique and more personalized.
Garden Library Design
If you are open to the idea of having a more public library, consider a garden library design. No, we don't mean to say building your library literally in the garden, but choosing a spot that lets you have a great view of the garden as you read your favorite books. The garden library would work great for those spaces that come with large windows overlooking a garden or lawn.
Round Library Design
You can't beat the majestic aura of a classic round library design. Complete with a rounded staircase, this library design allows you to enter a whole new world of books, books and only books. The round library design can either be on ground level, or can feature another story of books, provided you have the space to design it.
Dine In Library Design
There are some of us who prefer to read while we eat. The dine-in library will be a perfect home addition to those who prefer this setting. A simple book shelf can double as the library here as you reach out for your favorite books while eating or snacking.
Jewel Box Library Design
What if you have very little space in your room to create a library? The Jewel box library design will work well for tiny spaces. It features sturdy floating shelves along the walls which can be used to house the books while the space underneath will be utilized for comfortable seating. What adds flair to this design is the way all the elements are tightly packed together and painted in one single color to resemble the insides of a jewel box.

A personalized library can be a great addition to your home. There are many designs to choose from when opting for the best library design for your home as well.