The Modern Rocking chair designed by Jared Rustenis an exemplarypiece of furniture. The chair is crafted to last a lifetime and enhance the aesthetics of the ambience it is housed it.
The idea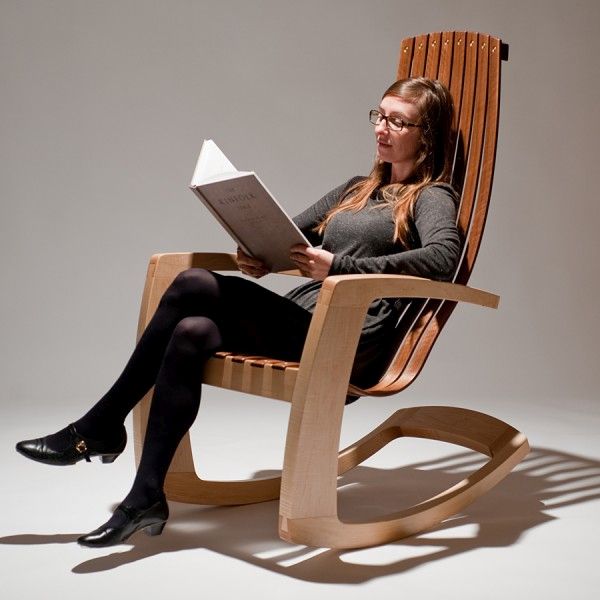 Apart from designing arocking chair with a unique design, Rusten had a series of thoughts behind the creation. The numero uno challenge was to create a very comfortable rocking chair without using any upholstery. The backrest of the chair should be tall enough so that a person of any height could rest his head comfortably on the backrest.
Other interesting features that Rusten thought of including in his modern rocking chair are durability so that it would last for generations, at the same time it should not give a tuff appearance, delicate and stylish it should be.The chair should be different from the traditional design. Feature a stylish, contemporary and original design.
Fortunately, all this was achieved by the Rusten, as the hundreds of people who sat on the rocking chair confirmed it.
The design
The cantilevered frame of the rocking chair is crafted from the light colored maple wood. The seat is of a different tone utilizing bent laminated slats of either cherry or walnut. The pieces are joined to each other using brass screws. The combination of two tones in a chair is not only appealingbut goes with almost all sorts of décor. Special attention has been given on the strength of the chair as it has been designed to last generations.
Children who swung on the chair would grow up and rock their children and eventually their grandchildren in it. Jared feels a rocking chair should remain an important part of the family and lasting years is an important aspect.
The motivation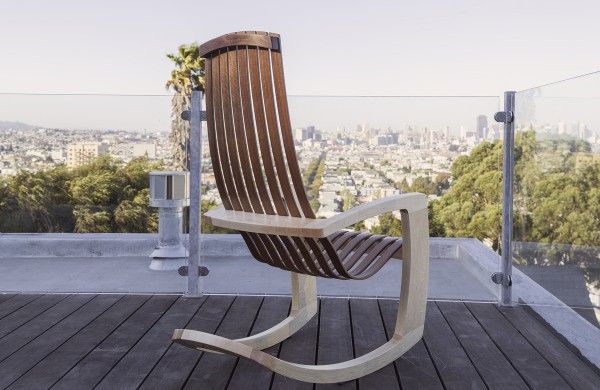 The story began in the year 2000, when Jared was convinced that he wanted to develop a career in wood crafting and design beautiful furniture. After a lot of hard work, apprenticing with experienced artisans and teaching others, Rusten started exhibiting his own designs.
By the year 2003, Rusten had his own studiocalled 'J. Rusten Furniture Studio'. A real boost to his confidence came in 2004, when he was invited by the Harvard Graduate School of design to exhibit his chairs. This encouraged him to design and craft excellent pieces of furniture.
Right from the joints, finish, strength, to the shades of the Modern Rocking chair crafted by Jared Rusten, everything seems tobe in perfect harmony. Such pieces are not just furniture but creations of art.
Source : Jrusten.Com