Icy floors in the morning are dreaded by everyone. Your home may be heated and warm but the floors deter you from stepping out of the bed. The HVAC systems have the shortcoming of not being able to heat the floor. But floor heating systems like radiant heating can provide heat to the rest of the house too. Innovations in radiant floor heating technology have made it possible for you to enjoy warm floors which also maintain an overall comfort level suitable for wintertime. Read on to find out about the pros and cons of radiant floor heating systems:
Types of radiant floor heating systems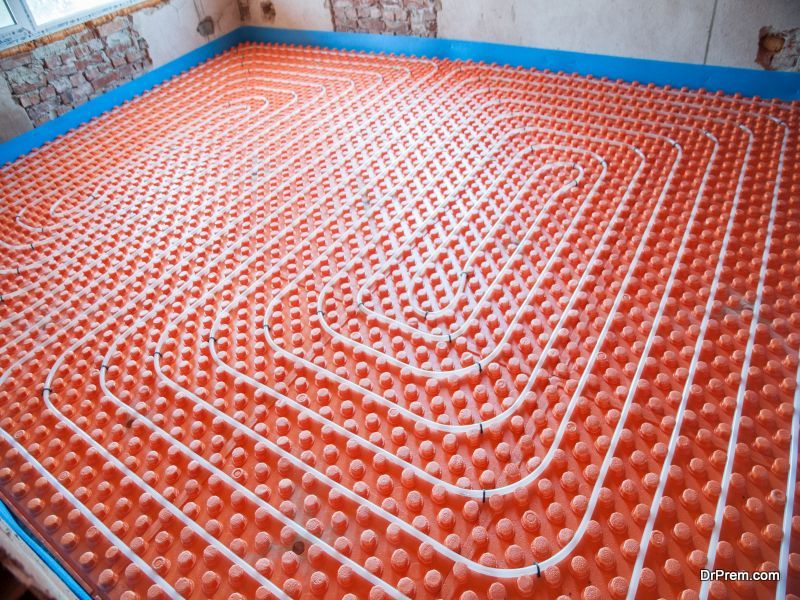 There are three types of radiant floor heating systems – air, water and electric. A good insulation system enhances the performance of radiant heating systems.
Air
As air cannot sustain heat for long periods of time, this kind of floor heating system is considered to be less cost effective than the other two types.
Electric
This type of floor heating consists of electric cables which are built underneath the floor. It suits both new and old buildings. If electric radiant heating is to be installed during the process of renovation, then the old flooring has to be removed completely. After that an insulation layer is laid and then the electric mats are installed. The third step is to lay the right kind of flooring which can make the heating system more efficient.
Hydronic
In hydronic systems, water which is heated in a boiler is pumped to copper or plastic pipes. These pipes are installed in a pattern underneath the floor. Heat radiates out into the home, which makes it comfortable and warm.
Pros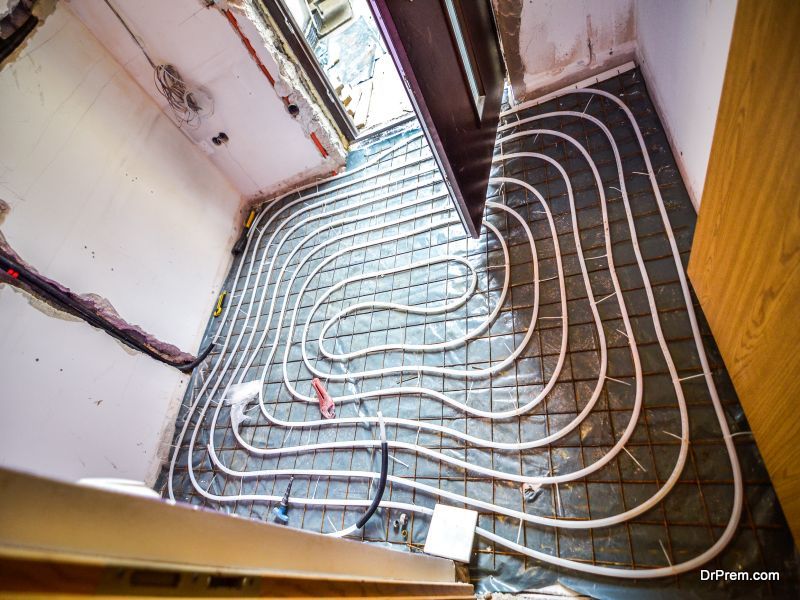 Uniform warmth
Hydronic radiant floor heating technology is one of the best ways to heat the whole house. They deliver heat from the floor upwards thus delivering heat uniformly throughout the house. Forced air heat systems throw heat towards the ceiling, and is the hottest near the vents and gets cooler farther down.
Efficient
Forced air heating systems cost a lot to operate, and one of the primary reasons is because of energy loss due to leakage in the ductwork. This compromises the overall efficiency of the entire system. But in radiant heating systems, there is no chance of leakage, and as a result no loss of energy, which leads to the system being more efficient. The designs of radiant floor heating systems differ, and the type of design is also a factor in efficiency.
Air quality
Radiant floor heating systems have the advantage of not spreading any dust and allergens indoors. Forced air systems have ducts which collect dust and spreads them throughout the house causing problems like allergies, asthma and other respiratory problems. Radiant heating systems are silent and do not reduce the moisture in the air, unlike forced air systems.
Aesthetically pleasing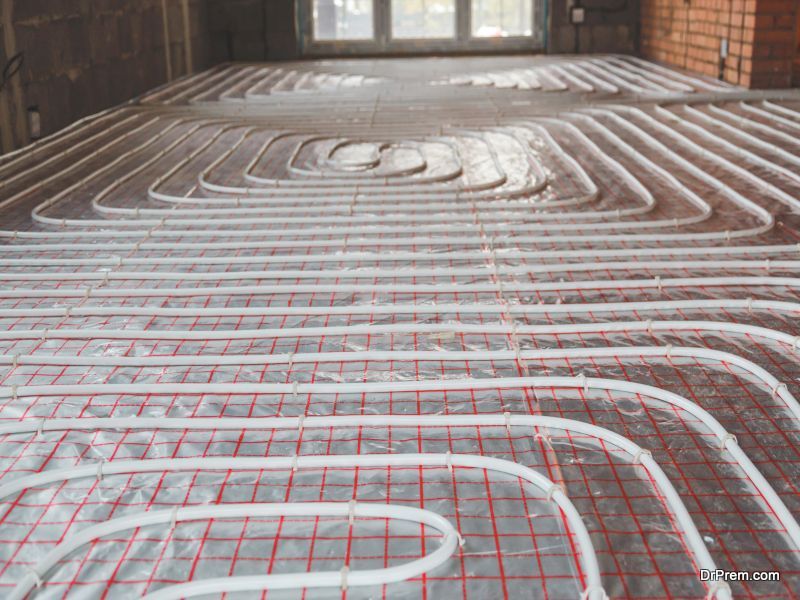 Radiant heating enhances the aesthetics of your home. It is totally invisible as opposed to the vents which forced air systems require. Due to advances in technology, floor panels available these days can easily be paired with radiant heating, even if the homeowner wanted to put in wall-wall carpeting.
Durable
Radiant floor heating systems are made to last for at least 20 years. And with the proper care, the system can last for 30-35 years. Maintenance costs are minimum too.
Hygienic
A heating system keeps pests like silverfish and mites away too. You can live in a pest free house for years to come. 
Cons
Initial investment
Initial installation cost can be quite high, especially a hydronic radiant floor heating system.
Floor damage
As the mats or pipes have to be installed underneath the floor, the existing floor needs to be destroyed. Unless you're remodeling or building a house, the expense could be considerable.
Cost of repairs
Though these systems last up to 35 years, and repairs are rare, but can cost a lot if required.
Warming up time
Warming up time differs according to the weather and floor material.
Forced air systems have been popular in recent times, but the advances in radiant floor heating system technology can be viable option to heat homes now.