Dehydration of body can lead to a lot of serious health hazards like suffering from a kidney stone, wrinkled skin, hair fall and so on. It is a common problem in a hot climatic condition if you keep your body deprived of water. Even when you are on a diet program, your dietitian will instruct you to drink water to reduce your food craving and to keep your body hydrated. The beauticians always recommend drinking water at an hour's interval to get flawless skin. So,the importance ofdrinking water from time to time is great in our life.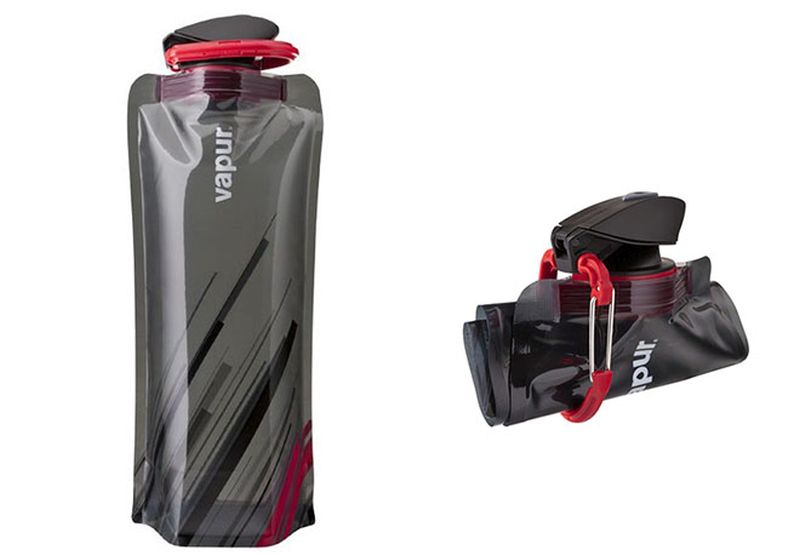 When you are traveling you may not get purified water every time, so it is recommended to carry foldable water bottle wherever you go. These water bottles can help you save on buying expensive packaged drinking water. As these bottles are foldable, it is easier to save space while you are traveling. So, you can carry water while trekking, walking or traveling without occupying a lot of space in your bag. So, the best thing about Vapour water bottle is that it can fit into any bag as it can be rolled up when they are empty.
There are some crucial reasons why you must not use disposable plastic bottles for regular use. They might harm your body as well as the environment.If you are conscious of saving our environment by avoiding plastic bottles, then Vapour bottles are useful for you. Thisfoldable travel water bottle is washable and reusable. As the material is made from non-rigid BPA-free plastic, so it does not cause harm to the environment.
Why can you consider using the Vapour water bottle?
Here are some of the reasons why you can consider replacing your disposable hard plastic bottles and get Vapour foldable bottle: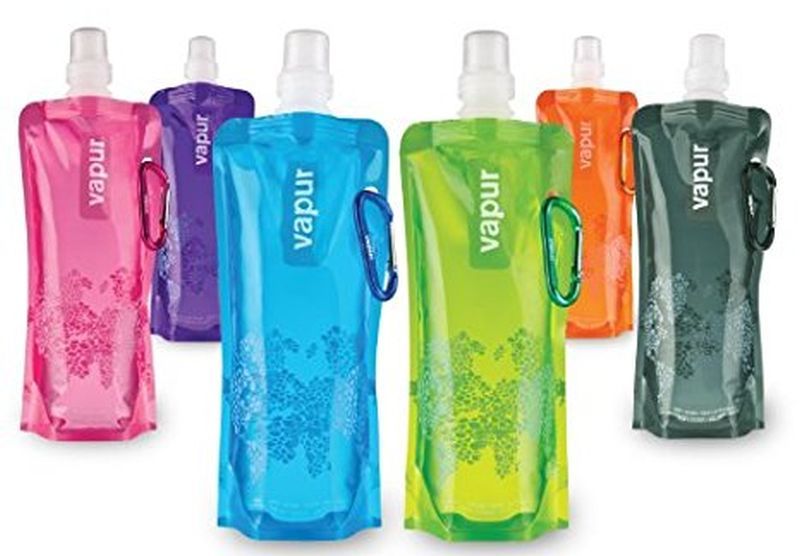 Trendy water bottle: If you are a trendy person, then why you want to carry a boring plastic bottle. Vapour water bottle is the new trend that you can carry while going for your early morning yoga or while enjoying a long drive. You can keep yourself hydrated in the scorching sun as well as prevent yourself drinking unfiltered water from the roadside.
Light weight and durable: One of the advantages of carrying foldable water bottle is that it is extremely light weight as well as durable. There is no fear of breakage or damage while you go for your trekking. This foldable bottle requires less space and can squeeze into your bag once the bottle is empty. The small carabiner at the top of the bottle makes it easier to carry and keep your hands free if you are not carrying a bag.You can hang it from your belt-loop around your waist or from your travel bag. It is made from a washable material, so it can be washed with a mild soap and water.
Freezable water bottle:Are you little surprised to know that your foldable travel water bottle can be used as an icepack? Believe it or not! It is true that you can freeze the Vapour water bottle if you want the water to stay cold while traveling long distance or it can also be used as an icepack without any mess.
Write your name: You can identify your own bottle by writing your name on it. You just need to flip the bottle over and use a marker to write your name on the placeholder on the back of the bottle. So, you can personalize your bottle by writing your name on it.
Reusable bottle:The Vapour bottle is made from a BPA-free material with three layered coating of ultra-durable plastic.The innermost coating of the bottle made from FDA-certified polyethylene. This bottle is scientifically designed for everyday use and regular cleaning.The superior graded quality makes it odour free, taste and stain resistant.
Therefore, these foldable water bottles are useful as well as hassle free way of carrying water everywhere. It has been designed for regular use in the city life. If you have not got it yet, then grab this trendy bottle now, to keep yourself hydrated all the time.