Ensuring a productive and inviting workspace within your home will not only help you get the most of your day, but it can also add value to your home. Now that home offices have become demanding and flexible working hours are becoming more popular within businesses, a home office is a feature that all homes are in need of. The beauty of owning your home is that you have free reign to create the kind of workspace that will help you retreat from the day and focus on your daily tasks.
With that being said, there a few handy tips that you can take on that help with home office design that will help you be more productive throughout the day and increase your property value when it comes to selling – especially when showing off your home during an inspection!
Here a few home office design ideas that will add value to your space and benefit your work day –
1. The Minimalist Vibe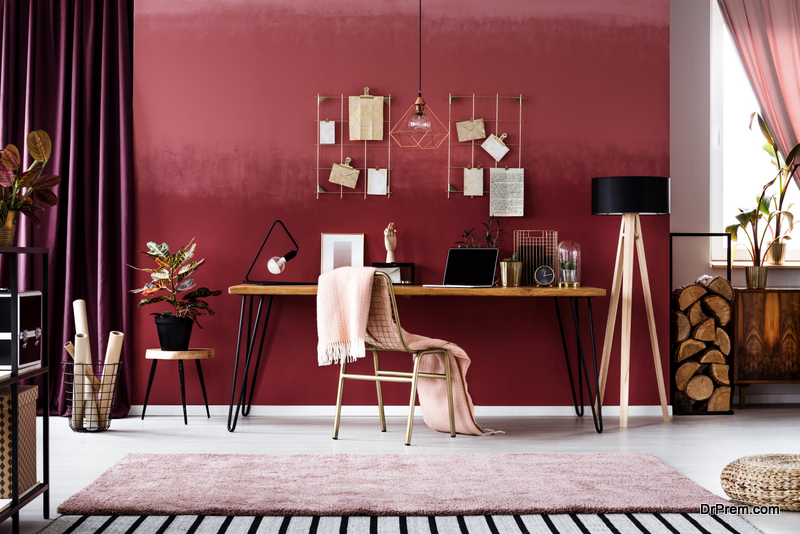 Going minimalist, means keeping things simple and without any unnecessary add-ons.
A minimalist space includes a few simple combinations to get the most out of space without making any large or unnecessary adjustments. Creating a minimalist work office utilises a small space without the hassles of bulky items, cords and anything else that can disrupt the office.
A fold up/fold down desk keeps the space simple while also taking advantage of a small space, it also means that you won't have to worry about moving around any heavy items around when it comes to moving. Similarly, incorporating a simple and sleek wooden desk with a designated draw for office supplies and a notebook is a great way to boost the space and your productivity.
Taking advantage of a minimalist space also makes a difference when it's paired with simple colours (such as white or neutral hues) to help create a productive space with no fuss. At the end of the day, distractions such as clutter and mess are all factors that deplete productivity, a minimalist area instils a clean and productive space without the hassle.
2. Colours & Light
Just because it's a home office, doesn't mean that it needs to be boring – if the minimalist approach isn't going to spark your productivity, then a bit of colour can go a long way. This doesn't mean that you have to go all out and paint the walls a loud colour but inviting a splash of colour can really add to the atmosphere of the room.
This might be as simple as investing in a coloured chair, colourful wall art or invest in some indoor plants to add some greenery to the space. Furthermore, ensuring your home office has plenty of natural light can open the space up and making it feel larger and less cramped. A window can make a last impact to your home space, so ensure that when you're designing your home office, you at least can give yourself a bit of a view.
3. The Space Saver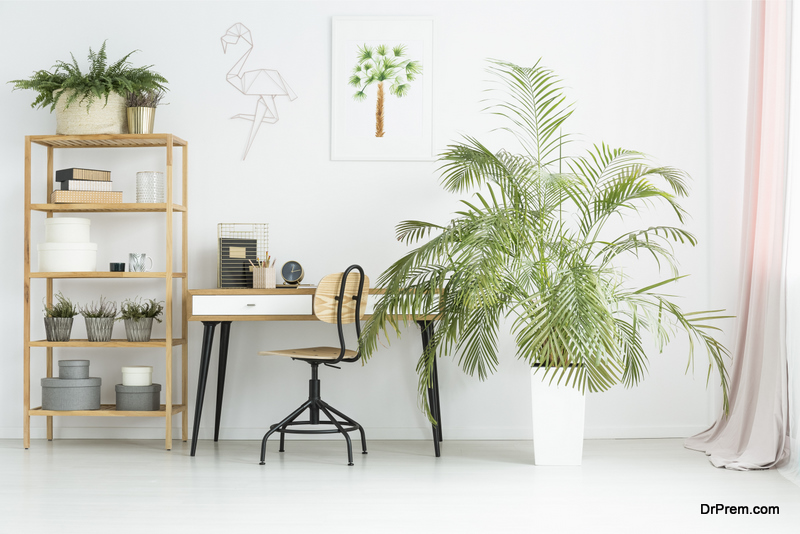 This home office design is a winner for small spaces and apartments. Creating a study nook will allow for you to have a designated space that will still be kept separate from other areas of the home while saving on floor space.
How you choose to create your nook is up to you, however, finding a desk without too much of an imposing depth is a great start to minimising the space. While it can be difficult to find a workable space within a small space, it's important to also make an effort to separate your work station to other liveable areas of the house. This will make a huge difference in your workspace productivity because you know that as soon as you enter the area, you're in mode.
Whether you want to convert a shallow closet area, place a small desk in your dining room or take over a section of your dining room table for the day, creating a space saving home office creates the opportunity to show case the space's adaptability to create spaces in one.
Furthermore, creating a vertical study nook provides the ultimate utilisation of space. Simply inserting bespoke shelving above your desk in your nook can not only save you floor space but it will also create a clearly focused workspace.
4. Art Deco that inspires
Creating your own home office opens up so many different possibilities to create an inviting space that inspires productivity and creativity. Investing in some art décor to jazz up your home offices introduces a splash of colour and inspiration to your home office.
It doesn't have to be expensive, most home based department stores sell a plethora of inspirational quotes and simple art pieces that can make an instant difference to your home space.
If your home office allows it, incorporating a floor to ceiling bookcase can also add another dimension to your home office. It also gives you the opportunity to get creative with your design of your space. Incorporating an Art décor to your home office might mean brass finishing, experimenting with mirrors or playing around with colours. However which way you decide to vamp up your home office, make sure it not only makes a statement, but it also contributes to creating a productive workspace that will dazzle.
Implementing a separate home office is becoming an essential part of workplace culture. Now that more people are finding themselves having to work from home, having a designated work office in the home has become a necessity. In addition to this, it can add to the overall value to the home in terms of built-in bookcases and creating an entire space to cater to working from home. Although this might not seem relevant now, when it comes to making the decision to sell the property, it adds to its overall value and demand. If you're wondering where your property sits within its current market, seek out your local team of property valuation experts to give professional advice on the value of your property. In the meantime, invest in your own home office to benefit your flexible working schedule and your bank account when it comes to selling.
Article Submitted By Community Writer