A kitchen backsplash can be a great way to bring some color into your kitchen, or add neutral tones to your colorful kitchen. Whether you are planning and decorating a new kitchen or renovating your kitchen, there are endless possibilities to create unique counter tops and backsplash in the kitchen, according to the design theme. You can have the backsplash and countertops as the focal points of your kitchen. Most homeowners cover only the portion of the wall that actually is 'splashed' during cleaning or cooking, but you could also choose to cover the entire wall.  Check out some designs for backsplashes that can inspire you:
Brick backsplash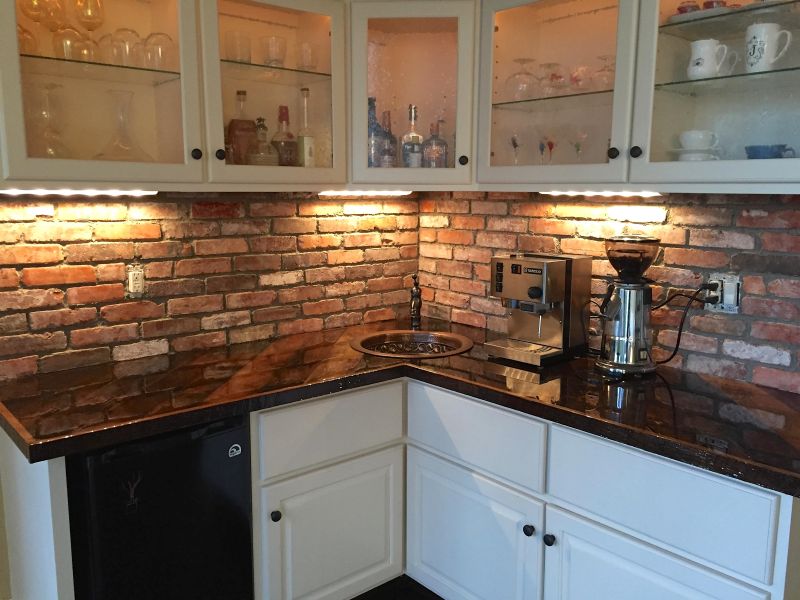 A brick backsplash would give your kitchen a vintage, homey feel. We tend to associate brick with the hearth-stove of yore, and the deep, rich color tone blends into any light or deep colored cabinetry and countertops.
Subway tiles
Kitchen renovation ideas with countertops and backsplash have seen the use of subway tiles in tandem with stylish fixtures and gourmet appliances. Usually, throughout the length of the wall, you can use subway tiles and not just on the backsplash.
Loom glass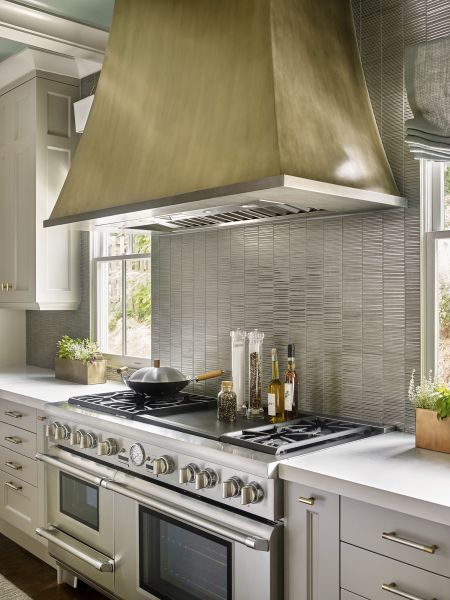 A stylish way to design your backsplash, and which matches with any countertop is loom glass tiles. The sheen adds to your kitchen looking glamorous as well as brightening up your kitchen.
Red tiles
Red Spanish tiles add drama to any kitchen. It looks fresh and can look good in your modern kitchen, especially if you have concrete floors or any grey /beige flooring. Red is a vibrant color and adds life to any design /color scheme and red and white tiles would cheer you up on dark, cloudy days as well as motivating you in the mornings.
Reclaimed wood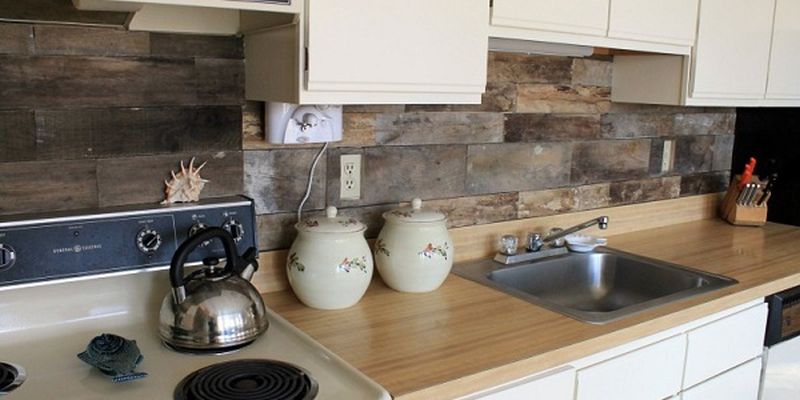 While renovating your kitchen in the cabin style, you can use reclaimed wood, which is an eco friendly option for your backsplash. This will make your kitchen more outdoorsy too.
Marble
Marble backsplashes go well with marble countertops, especially in all white color schemes. The shade of marble you want to use for the counter tops and backsplash in the kitchen
can be of a darker hue than the color scheme of the rest of the kitchen. The pattern of the backsplash can also be smaller than the pattern of the countertop.
Harlequin pattern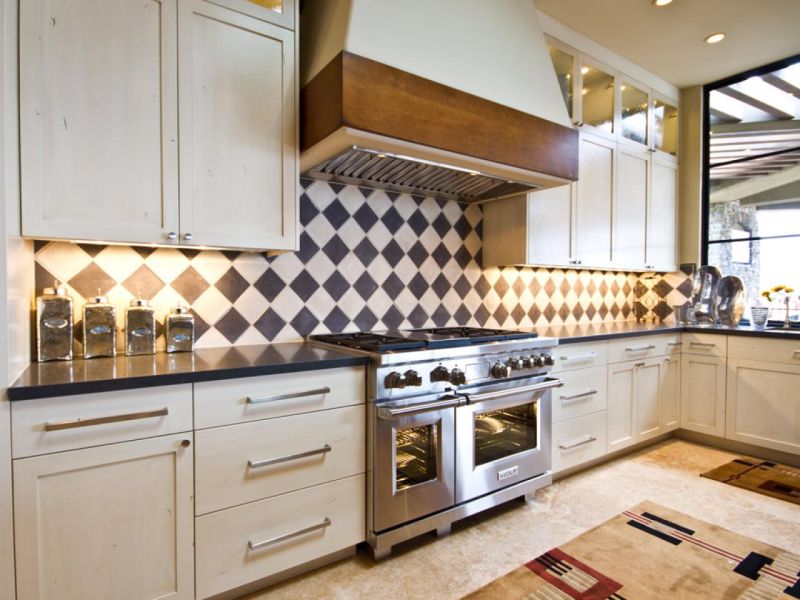 Many designers for kitchen renovation ideas with countertops and backsplash use the harlequin pattern for kitchen renovation ideas with countertops and backsplash. It gives an old, world cozy charm to any kitchen. You can create a harlequin pattern using color combinations of your choice.
Mirrored tiles
Jazz up the kitchen with mirrored tile backsplash. It maximizes the light in your kitchen and lends a glitzy, party feel to it.
Color contrast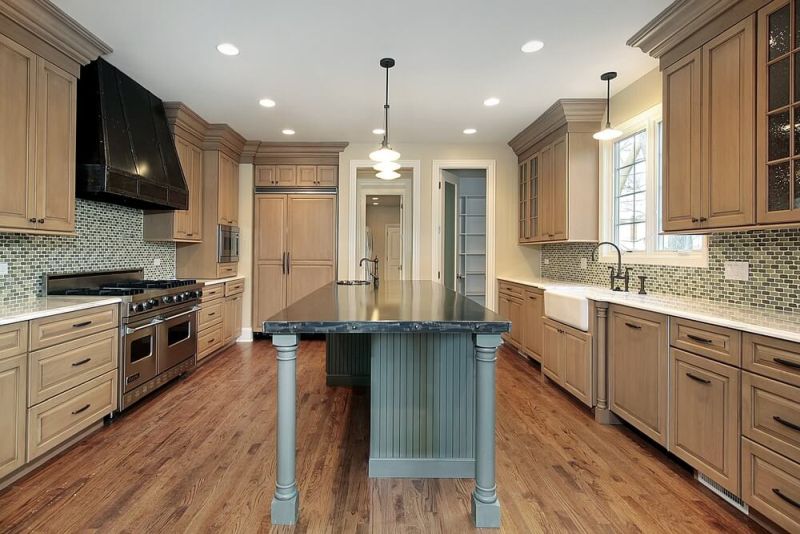 Instead of matching, go the other way with subway tiles in white as backsplash, green granite colored countertops, with vibrant red appliances.
Mosaic tiles
Mosaic tiles in combination with granite countertop gives a rich, opulent look.
Terracotta tiles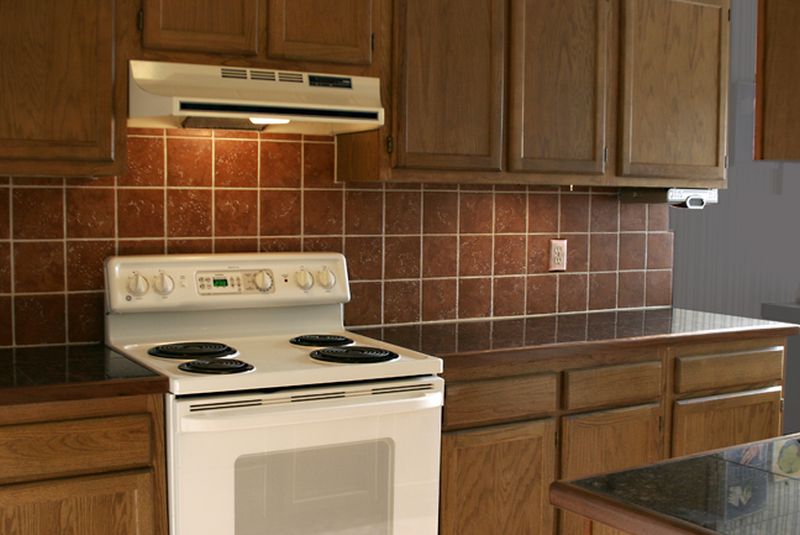 Terracotta tiles look like brick tiles but are cheaper and easier to clean. You can use these tiles on the entire back wall for better effect.
Burnt orange
Spicy orange tiles as the backsplash will spice up your white / grey kitchen and make it eye-catching. A pop of color makes the kitchen bright and inviting.
Tin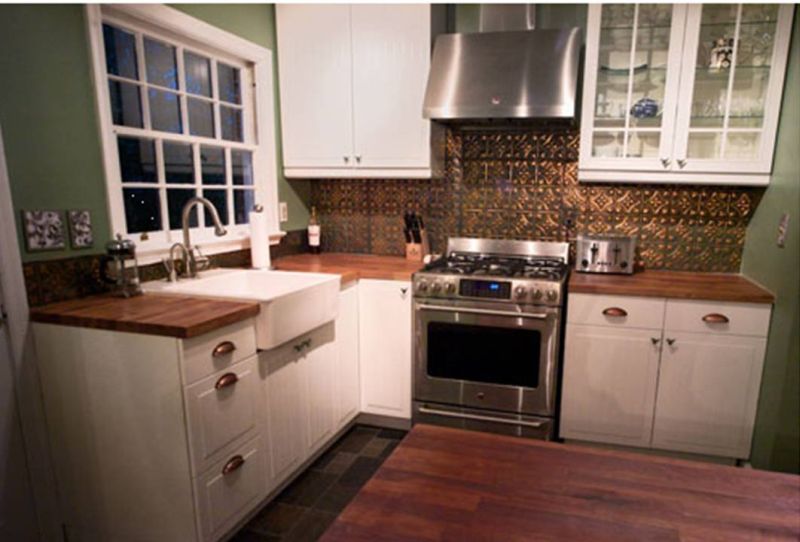 You can use pressed tin and paint it in a color of your choice to have a cheap and easy to maintain backsplash.
Green plaid
While decorating your kitchen, you can use green plaid as the backsplash. It looks charming and gives a serene feel to the kitchen design.
Gunmetal
Gunmetal colored ceramic tiles look great in modern, minimalistic design kitchens. It matches well with both warm and rich wooden hues of the other walls.
Blue and yellow combination
Blue tiles with warm yellow countertops add a cheery feel, which would make you feel like spending the most time in your kitchen.
Turquoise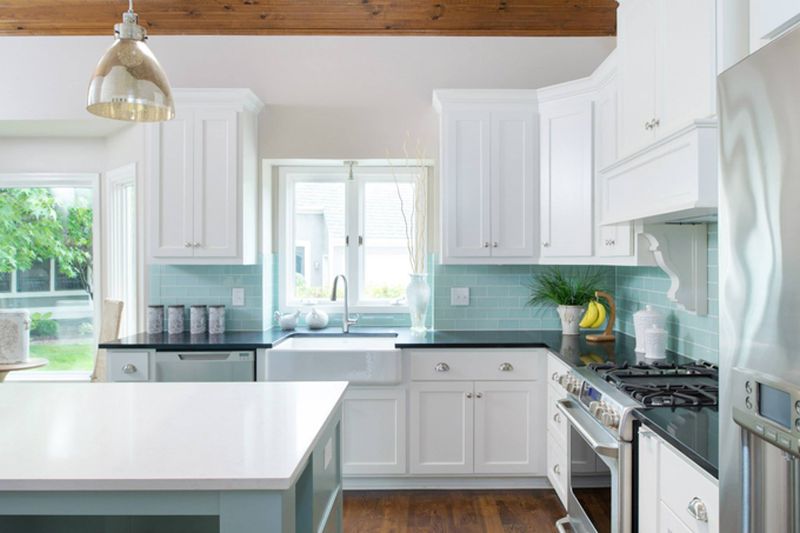 You can use Turquoise colored glass tiles and other colors strategically to make your kitchen look fun and classic.
You can design kitchen backsplashes using numerous materials. This includes using bricks, marble and tiles in various styles and colors. They add visual allure to the kitchen as well as keeping your kitchen walls safe from cooking and cleaning splatter.