It's often referred to as the heart of the home, and with good reason. Yes, the kitchen always seems to be the room we naturally migrate towards. Whether it's cooking the Sunday morning fry up, catching up with the family after a long day at the office or preparing a mouth-watering feast for a dinner party, there is always an excuse to be in the kitchen. These days the kitchen has become so much more than simply the place where food is prepared; it's the social hub of the home. Glaswegians are well known for their love of good food, good drink and good company so naturally many are keen to perfect their personal cooking space. Here are 5 ways to create your dream Glasgow kitchen.
Pick an Overall Style
To create your dream kitchen, you first have to decide on the style that best suits you. The style of your perfect kitchen should tie in with the overall style of your home, as this allows a seamless flow from one room to the next. Suburban family homes can benefit from a traditional, warm and welcoming kitchen and these days traditional doesn't mean outdated. This style of kitchen makes use of warm colours, classic design and robust materials to create a family kitchen you will look forward to coming home to. The German built Pronorm Classicline kitchen range available from Ecko, could be the ideal solution. With a wide range of colours and materials, these kitchens aim to maximise style and space. You can personalise and create your own unique kitchen for your family to enjoy for many years to come.
Cupboards and Worktops to Define Your Style
One of the key elements of your kitchen will undoubtedly be the worktops and cupboards. It is here you can really showcase the style of kitchen you are looking to achieve. Your cupboards will provide much needed space and you can choose a design to fit in with your vision of your dream kitchen, whether this is something warm and cosy or contemporary and sophisticated. Apartments in Glasgow city centre may be smaller than the traditional suburban homes, but what they lack in space they certainly make up for in style. Sleek, modern kitchens can transform an apartment. Storage can often be an issue, however the Pronorm Proline range makes city living easier, with a grid system providing floor to ceiling storage for modern, smaller kitchens. If you want to go one step further in modern living, you might want to consider the Pronorm Handleless Y-Line. This handle (and hassle!) free range is the next step in modern living and will have your kitchen looking like something out of an upmarket home style magazine. The kitchen worktops are vital in creating your dream kitchen. When choosing the right one for you, consider the style of your kitchen and what your worktops are normally used for to ensure your worktops meet your needs.
Appliances to Make Your Life Easier
A kitchen wouldn't be complete without appliances. From the fridge freezer to the cooker and dishwasher and everything else in between, kitchen appliances make life easier. When creating your dream kitchen, the style and aesthetics are undoubtedly important, however it's important to ensure your kitchen appliances are up to standard, otherwise you'll be left with a stylish kitchen that doesn't function! Consider the main uses of your kitchen and do your research into which appliances meet your needs. Reputable brands such as Neff and Siemens provide high quality, long lasting kitchen appliances that you can count on. Sleek appliances can fit right in with a modern style kitchen, however if you want your appliances to blend in with your more traditional kitchen décor, consider integrated appliances, which will discreetly tie in with your style.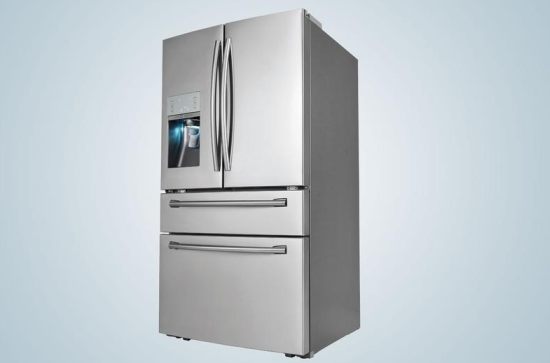 Don't Forget the Kitchen Floor!
The kitchen floor needs to be prepared to take on a lot. Not only does it need to be strong enough to withstand people constantly walking on it, it must also be ready to take on those inevitable kitchen spills! Well, that explains why you don't see carpet in kitchens! You could choose a gorgeous oak floor to tie in with your cosy traditional kitchen, or perhaps large slate tiles to enhance your sleek and modern kitchen. The kitchen floor is often an afterthought, but choosing the right one can really transform your kitchen. Whatever your kitchen style, the flooring brings it all together.
Finishing Touches
Okay you've chosen your style, picked your cupboards and worktops, got your appliances and your perfect kitchen floor in place.  All finished? Not quite! To complete your dream kitchen, you should consider some finishing touches to transform your kitchen from house to home. Making sure you've got the perfect lights for your kitchen will tie your whole style together. Perhaps some task lights over worktops will assist you with cooking or mood lighting to set the tone when friends are over for dinner. Kitchen radiators don't need to be eyesores these days. A range of colours make them more funky than ever and means they can blend seamlessly with your décor, whilst making sure your Glasgow kitchen is still kept warm and welcoming. Some family photographs or some striking art work will allow you to put your own personality into your dream Glasgow kitchen, making it uniquely yours.
Article Submitted By Community Writer