Designer Konstantin Achkov, who has worked with complex structures like 'tensegrity, conceived and materialized a unique, compact flat-pack furniture unit – the Electron Chair. The present product was originally presented a few years ago as a prototype, which received enormous appreciation from designers and design magazines. So, the designer gained more confidence and worked further on the refinement of the existing prototype.
Design and Material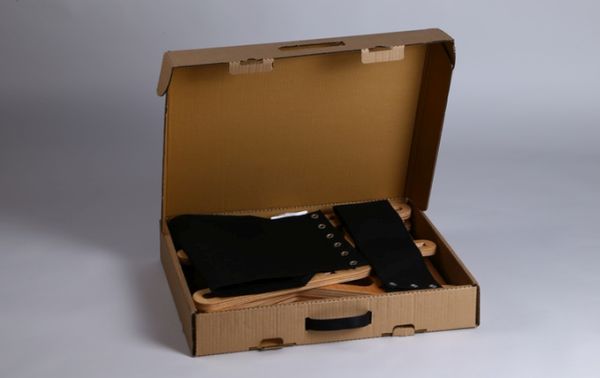 At base lies a symmetrical construction to provide strength in all directions. Sides of the chair, formed by four triangles and a square, are inspired from international sign of electron.  The seat and the back are made from waterproof, UV protected, coated textile for comfortable experience. The chair is cut from an 18 mm beech plywood, cut by a CNC router. The chair comes in parts that require assembly, just like puzzle.
Pure Geometry with no screws and nails
One of the most unique parts of this chair is that not even a single nail or screw is used for assembling the joints. The components of the chair come with a manual and are assembled on the puzzle principle with no nails and screws. Indeed the chair was intentionally design on the puzzle principle.  All the joints are developed by LOCK, a flat-pack furniture manufacturer with specialization in interlocking systems and puzzle structures.
Eco-friendly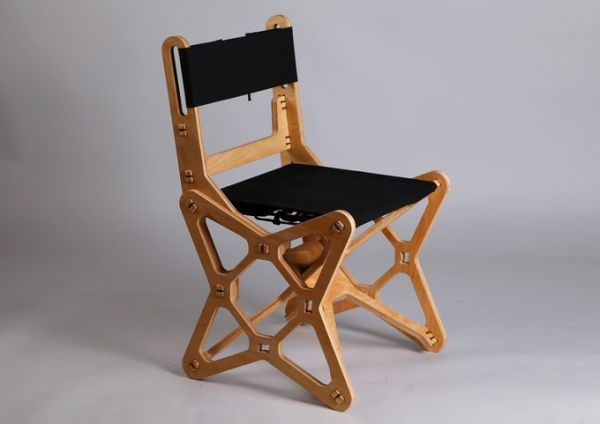 Metal-less design already sounds natural. On the top of that, the maker decided to commit it to zero waste principle. So, he made additional accessories from the remaining waste. This special set of accessories made from the remains includes peanut trays, tea-light holders and coat hangers.
 Assembling
The chair comes packed in parts that require assembly. The box contains plywood chair parts, seat and back textile, ropes, joints and pins, wooden intermediate instrument with assembling instructions.  Unpack it and follow the instructions to assemble the elements of the chair. The assembly is fast and easy.  However, you would need a wooden hammer in addition to the included wooden mediator.

The electron chair is an innovative flat-pack design. The chair appears to be a complex structure as it's deliberately built on puzzle principle. As there are no nails and screws to join those components at joints, the user will find it amusing to assemble it. Most of all, it's a zero waste product and the remains of the construction materials are used to create a special set of accessories.
Source : Kickstarter.Com