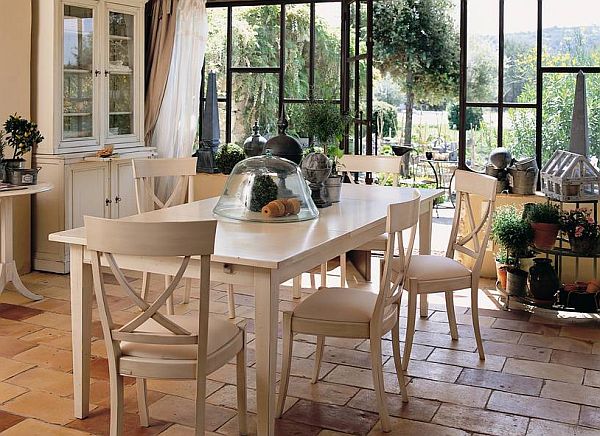 Home decoration, according to me, is a very important task that requires a lot of planning, dedication and thoughtfulness. The dining room is one of the most important places of the house and hence, you should try to make it as comfortable, cozy and attractive as you can. Here are some amazing dining room corner decoration ideas that would help you to make the most of your dining room and transform the dining area into a warm and welcomed place.
Extend the dining room to the living area:
In houses with large spaces, extending the dining room to the living area would really transform the regular and boring place into an active family hub. This will serve as a place where all the family members can enjoy and spend time together while having their meals. All you need to do is place a small sectional along with a small coffee table at one of the corners.
Make a reading area:
In houses with limited space, it is very important that you make the best use of every inch available. An armchair placed in one of the corners with a small lamp can transform a simple corner into one of your favorite reading spots where you can spend some personal time exploring your favorite books.
Add more storage options:
The empty corners of a dining room can act as a good storage area and can even be used to display various culinary items. Place some extra furniture or accessories like wall mounted and open shelves, cabinets, secretary desks and corner shelves to keep books or ceramics. This will make the area appear larger and will allow you display things in a stylish manner.
Bring Nature Inside:
Plants are a good way to incorporate greenery into the kitchen or the dining area and make the place more lively and fresh. You can place small plants anywhere inside the dining room, either on the table as a centerpiece or at the banquette corners.
Light up the Space:
Proper lighting is necessary for all the rooms of a house, including the dining area. You can add magic to your dining area by allowing natural light to enter your dining area. Place few chairs near the dining area windows to breathe life to the dining area. On the contrary, you can even make use of corner floor lamps that add beauty and elegance to any place. For small places, use of twin floor lamps at two different corners is recommended to attain a spectacular symmetry. Select a floor lamp that best matches your dining area chandelier to enhance the looks of the place.
Place a Sculpture:
A sufficiently larger piece of art will prevent the dining corners from appearing dull and boring. Even contemporary floor lamps can serve as eye-catching standalone sculptures to make your dining area gorgeous and entertaining.
Summary:
The dining area is the place where you spend your time eating and chatting with your friends and family members and hence, you should decorate it with elegance, style and creativity. These ideas will surely boost up the appeal of your dining area, making it more attractive and sophisticated.