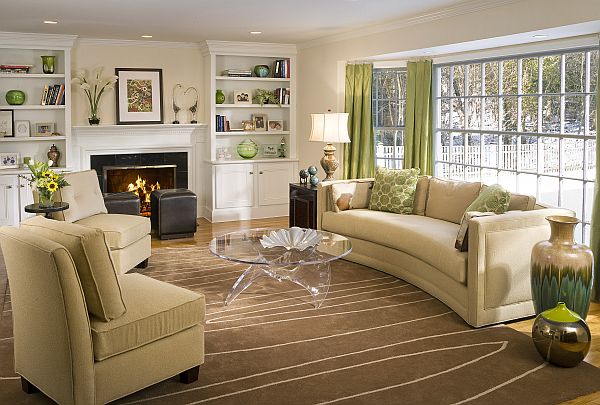 With a slight chill in the night air and the leaves altering their colors, fall has almost made its way into our lives once again. Now is the time for us to get started with some changes inside the house to update it and to make it warm and cozy, so that you have a wonderful time ahead. Welcome happiness and comfort in your house with these home decoration ideas to enlighten the spirit of the season.
Update Your Pillows and Textiles:
With fall, the climate gets cooler and you spend most of the time indoors. This is the perfect time to warm up your sofas and chairs with different kinds of pillows like decorative woolen pillows, pillows with heavy gauze wool, cashmere throw pillows, etc. This will add to the visual appeal of your place. In addition, you must take out your blankets and quilts and wash them before using. If you are expecting guests, keep these items in a way that they are easily accessible to provide warmth and comfort.
Light Up Candles:
Cuddle up these shorter days and early eves beautifully with the help of scented candles. After a tiring day, the aroma of these candles will have a soothing and calming effect on your mind and body and will make you feel rejuvenated.
Play with Autumnal Colors:
Colors have a great influence on our lives. This season decorate your home with fresh hues and bright shades of brassy yellows, dark greens, classy coppers and more fall inspired colors to create a unique zest and zeal for the season.
Love Thy Feet:
Rugs look great as an accessory and this season try layering different rugs to provide extra comfort and warmth to your feet from the cold tiles and floors. However, do not forget to choose a larger rug as the base and a smaller rug on its top to create an elegant and attractive layering effect inside the house.
Get the Fireplace Ready:
To prepare the fireplace for fall nights, clean it properly and check for gas related safety hazards, leaks and foul smells. This will help you keep your fireplace safe and warm to relax you in comfort.
Replace the Summer Shades:
Bamboo shades and transparent, windy curtains which were used in summers to provide you cool air now need to be replaced with dark and cozy ones to provide you warmth and comfort. Switch on to heavier fabrics. You can cover bamboo shades with dark yet elegant looking curtains to enhance the natural warmth of the place.
Perk up the Patio:
You can add life to your porch, patio or deck with some common materials like corn stalks, raffia and straw around the columns and mailboxes. A few chairs decorated with cozy colored ribbons like oranges and browns, straws and some comfy push throw pillows will transform your deck or patio from chilly and boring to warm and enjoyable.
Collect Fresh Blooms:
Nothing except fresh flowers could boost up the spirit of autumn. You can place flowers like sunflowers and alstroemeria inside vases around the house, as they do not wither away quickly. Place some water inside the vase and replace the water regularly to keep the flowers fresh for long.
Create a beautiful Wreath to Welcome Your Guests:
Wreaths are attractive and pleasing and can be found in large varieties. While simple grapevine wreaths are attractive on their own, you can make them even more eye catching with the help of pinecones, leaves, berries and cornhusks. Wreaths hung on windows that match your décor will add a unique magic to your place.
Get Ready for Halloween:
Get going for Halloween by using carved pumpkins with shades like orange black and welcome guests and neighbors to celebrate the passion of the season.