So many times you might think that picking the perfect hardwood floor is easy.  Pick out the wood you like, the stain color that you want, and it is all done, right?  Wrong!  There are so many things that you need to know about hardwood flooring before you install it in your home.  The following are the top six questions that you need to be asking yourself  before you can choose the right hardwood flooring for your personal needs.
What is your family like? 
The first question that you need to ask yourself before you can choose hardwood flooring is what type of family do you have.  Do you have children?  Do you have pets?  Is the floor going to be abused in some way?  If so, then you should make sure that you have a hardwood floor that is really hard.  Some of the softer woods might not withstand the abuse that your floor is going to take.
Where are you going to install the floor at?
Next think about the room where the floor is going.  Is it a room that you use all of the time like the living room or family room?  Also think about the level of the house that your floor is going to be on.  Hardwood floors are good for ground levels or above but are not good for floors that are underground level, like basements.  The main reason for this is that these below ground levels have more natural moisture in the air which can cause the floor to warp and buckle in ways that it was not meant to.  You can, however, choose composite or laminate floors for these rooms.
What is your personal style?
As with everything there are different personal styles and each one is going to have a type of floor that fits better.  Even hardwood styles that you love might not reflect the same look in your home.  If you have a very traditional style then choices like hickory will look best.  However if you have a modern home then you would likely prefer a style that is darker or has been gray stained.
What type of sub-floor do you have?
Knowing your sub-floor is very important for being able to pick the right hardwood floors.  If you have concrete sub-flooring then you have to pick from a composite or laminate style.  Natural hardwood will not be able to withstand the pressure of being on concrete sub-floors.  You can add plywood sub-flooring over the concrete if you are adamant about using natural hardwood flooring.  Plywood sub-flooring is the most common used choice and what is perfect for hardwood flooring.  If you have particle board sub-flooring then you have to take it out and replace it with plywood before you install your hardwood floors.
What do you want from your hardwood floors?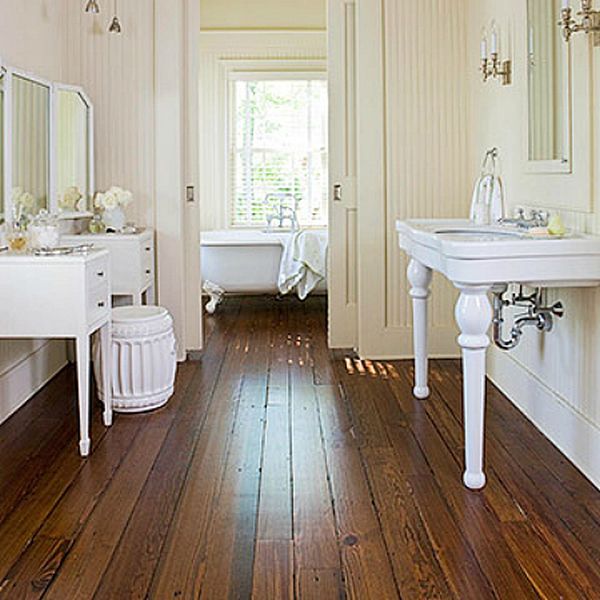 Next it is important for you to determine your personal wants from the hardwood floors.  Is the cost of the flooring most important to you?  If you are most concerned with finding an affordable option then you are going to want to find a laminate or composite hardwood floor choice.  These are more affordable than natural hardwood flooring.  What do you want to do to maintain your hardwood floors?  A harder wood is going to last longer.  Also most of the time lighter stain colors are easier to hide scuffs and scratches on.  If you are going to have a lot of traffic you might even want to consider a look that is weathered or naturally scratched.  What do you want the floors to look like?  Everyone will have their own preference for the style of floor that they want with their new hardwood flooring.  There are many choices that you can consider.
How will you test if your pick is right for you?
Of course you do not want to order and install flooring that you are not going to fall in love with.  Instead of doing this you should consider looking at free hardwood flooring samples.  These are a great way to see a small piece of the wood before so that you can make sure that this is the look that you are interested in.
Remember when you are installing new hardwood flooring that it is like all renovations.  You are going to need to do some things to prepare your home.  This will help you to make sure that you are ready to get the work done and that you can get it done in a quick time period.
Article Submitted By Community Writer