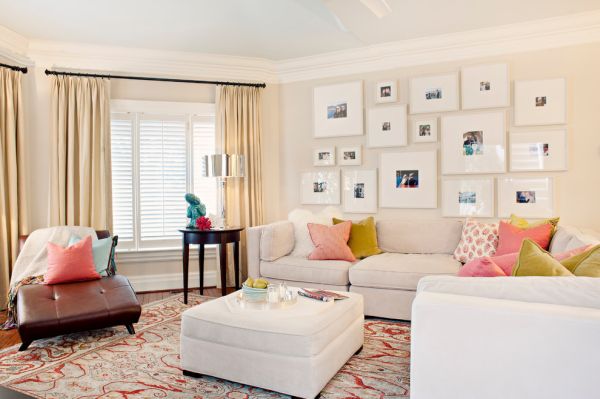 There are two approaches to decorating your living room, one is to follow the latest trend and the other way is to custom create an ambience that would meet your needs. All the latest trends are going to get obsolete in a short period. So, to keep up either you need to keep changing the décor which is absolutely not practical or you can arrange everything as per your discretion.
Creating your own impression
The first rule is that there are no rules, mix and match the furniture as per your liking. More than any guest or friend, you will see the arrangement every day. If it is not appealing to you, then what is the point in decorating it? Everything need not match, a lot of people blend different styles of furniture and colors in a way that they appeal and not look confusing.
Center of attraction
To create a theme-based living room you can make use of a piece of furniture. A non-conventional sofa or chairs could be the center of attraction of the room. A painting or an artifact could also be used to highlight the room. Everybody will notice these things first and the rest later, they will create the first impression.
The 80-20 rule
The rule is to stick with the same theme or pattern for at least 80% of the work in the living room. The remaining 20 % can be played with. In a contemporary or modern set up it is absolutely fine to place an antique. Even the wood that you choose could be a mix of formal and casual choices, keeping mind the same 80/ 20 rule. Take for example mahogany can be used with pine or maple with cherry. Some interior designers stick with just one type of wood for the sake of convention. We say as long as the pattern is appealing to you it ii very much in.
Choosing a rug
There are wide varieties of material that you can choose from while selecting a rug for your living room. Dhurries and Kilims are available in bright colors and a variety of patterns. These are often reversible, so you can change the sides and get a different look whenever you want. Cleaning them is easy and usually these last long. Natural rugs are generally used where the number of visitors is more.
They are woven from natural materials like jute, hemp, seagrass to name a few. These rugs are not expensive, durable in nature and match with almost all decors. Then there are tufted rugs, which are more used in areas where there are fewer visitors. Tufted rugs have accurate patterns, which are created by inserting thread over a base.
You can make use of more than one rug in an open space. Focus more on the harmonizing effect rather than merely matching the ambience.
Antiques, are they in?
They were in ever since and shall remain so. Antiques have an aura of their own, which highlights the space surrounding them. These can be literally placed in any room. Adding a wooden antique to your living room will create a magical effect.
The hardwood pieces with a great finish will mix and match in all sorts of decors. If your budget allows, you can get an expensive antique. Tell your friends about the price and the hardships in obtaining it (even when you got it easily)!
Go ahead and create a living room of your choice with vibrant colors or choosing from a simple décor. Experiment with your pickings and you may end up creating a unique décor.