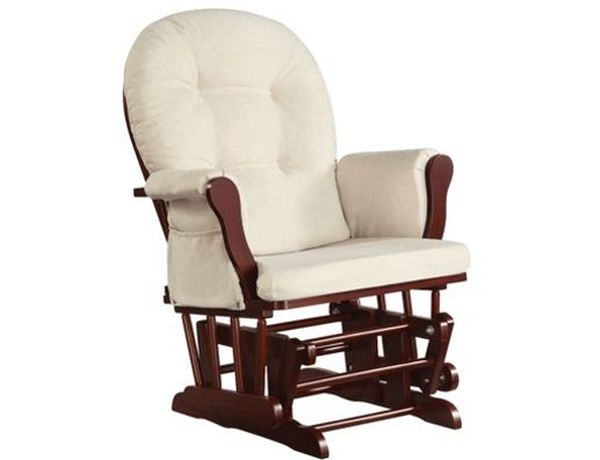 A rocking chair is a quintessential addition to any home, especially if there is an elder or a new born baby involved. These are the perfect places to cuddle up with your newborn as you feed, sing or read to him/her. While most households have the vintage rocking chair, newer concepts have started gaining more prominence among those who prefer style and comfort in the same chair. Here are some rocking chair designs that would definitely blow your mind away.
Vintage chair
Let's of course start with the vintage rocking chair without which, this list would never be complete. These wooden chairs offer the perfect excuse to kick back and relax after a hard day's work. Plus, they are a hit with the elderly who swear by their comfort. There are strong chances that you can get these vintage rocking chairs in local thrift shops and garage sales for a fraction of their original costs. A few repairs and a fresh paint job later, you will have the perfect rocking chair addition to your home's décor.
Bright and sunny rocker
What strikes us when we look at the Bright and Sunny Rocker is how sunny and vibrant it actually is! A perfect addition to the kids' nursery, this rocking chair is ultra-modern and comes with a tall back for maximum support and comfort. Plus, its vibrant color would add some needed brightness to any room it is placed in.
Most Modern Bungalow Rocker
This Most Modern Rocking Chair is different from other rocking chairs in that it doesn't look like one at all. The Bungalow Rocker looks like any other ordinary sofa that comes with very clean lines. The rocker can be kept in the nursery until its purpose in there is served, and then be shifted to any other room of the house for standard seating options.
Style-at-a-Steal Glider
While most modern rocking chairs boast of being stylish enough, they more often than not compromise on another essential factor, the comfort. But not this one! The Style at a Steal Glider is stylish enough to grab attention, but does not compromise on the comfort. Sit on its overstuffed cushions and you will be rocking away to sleep within minutes.
Status Room Glider
What's so special about the Status Room Glider you ask? Plenty we say. The rocking chair comes with a high back to offer you maximum comfort as you rest. The pockets on the sides are perfect storage units to keep your cellphone, TV remote or books. If that's not all, you get a small ottoman seat to place your legs on when resting, thereby minimizing any leg cramps that may occur due to keeping your legs in the same position for continuous periods.
Babyletto Madison Swivel Glider
At first sight, the Babyletto Madison Swivel Glider would not look like a rocking chair at all. Too compact to be called a standard sized rocking chair, the Swivel Glider looks more like one of those love seats you see in the magazines. The highlight of this amazing piece of furniture is that it not only rocks, but glides and swivels as well. The compact, curved shape of the chair makes it easy for you to place it even in a corner, thus making it the best choice for small nurseries. Another highlight: it is formaldehyde and PBDE free, making it completely safe and eco-friendly.
Eddie Bauer Chair and Half Rocker
A fight usually erupts in the household when everyone scrambles to get their share of time on the rocking chair. Well, here's a chair that can let all of you sit on it at the same time. The Eddie Bauer Chair and Half Rocker is a multiple seater rocking chair that allows at least two people to sit on it at any one time.
Summary
Rocking chairs are a lovely place to relax and enjoy the serenity, or just for some good ole fun times. They've expanded beyond the usual design and now offer plenty of styles.