Book lovers love to read in a space where there is no noise and they are tucked away from the rest of the world. The bedroom is the best place to enjoy a little reading time, but you can't be in bed the whole day. A reading nook, that is comfy and cozy, will be your own personal retreat. You can create your own private reading space in your bedroom with these simple tips.
Tips to turn bedroom into private reading space
Determine the space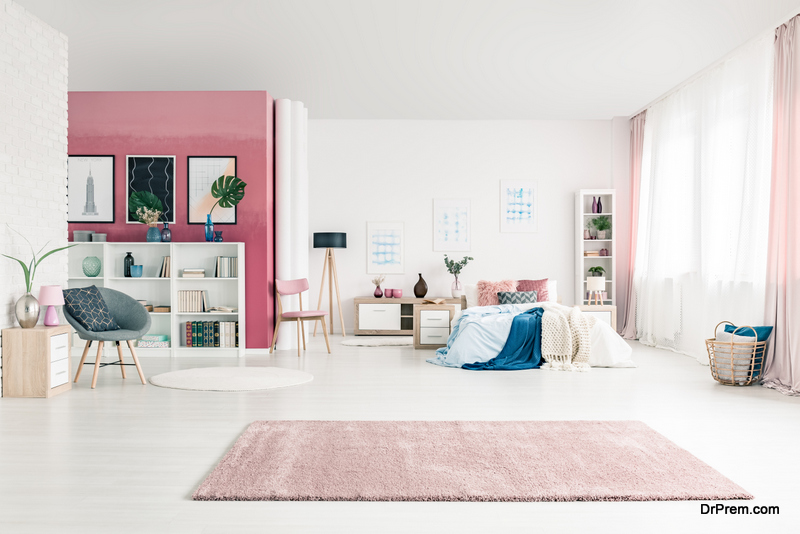 The first step is to figure out the amount of space you can devote to creating the nook. Do you have enough space to accommodate all your books? Or is your bedroom so huge that you don't know what to do with all the extra space? A reading corner can be fitted into the smallest of spaces or can occupy a huge amount of empty space, with built-in shelves.
Do you have enough space for a desk and a plush chair you can sink into? Sometimes, if you have space enough just for a chair, that could be enough to create a private reading space in your bedroom. Just buy the most comfortable, plush chair you can, have a throw on it and place it near the bedroom window. Don't forget an area rug that will add more interest to the corner.
Hallway reading nook
If you do not have enough space in your bedroom for a designated reading nook, then devise a nook at the end of the hallway for you and a friend to read together. There can be two daybeds or a comfy two seater with a small table to entice you into spending hours in this delightful private reading space.
Alcove reading nooks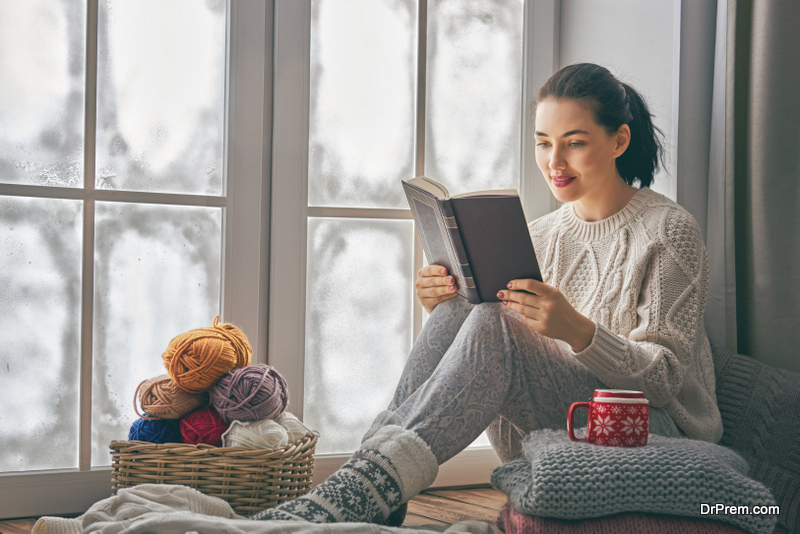 An alcove in your bedroom can be transformed into a tiny private reading space. An in-built bench with soft cushions is perfect to be lost in the world of books, soaking in the bright sunlight. Place a small side table next to it to rest your cup. If it's a little larger alcove, then put in a work desk as well to create a reading as well as working space.
Create the feeling of space
Rearrange the furniture in your bedroom to enable you to move around freely. Take out some cabinets and place them in the hallway or passage. Unnecessary furniture makes your bedroom feel cramped and unorganized. So remove all clutter and unused furniture and create space for your reading corner. A comfortable, spacious layout immediately creates a sense of calm and peace when you enter the room.
Use the apps and software dedicated to room décor and select the place which is just right for a private reading space in a small room. The app/s can help you move things around your room virtually, and when you come across the perfect layout, just follow that for the most appropriate use of space and look. If you have a very small room, add a reading space by just adding a window seat. A soft cover on the seat and mounted bookshelf will give you the special space you needed to put your feet up and read.
Choose the color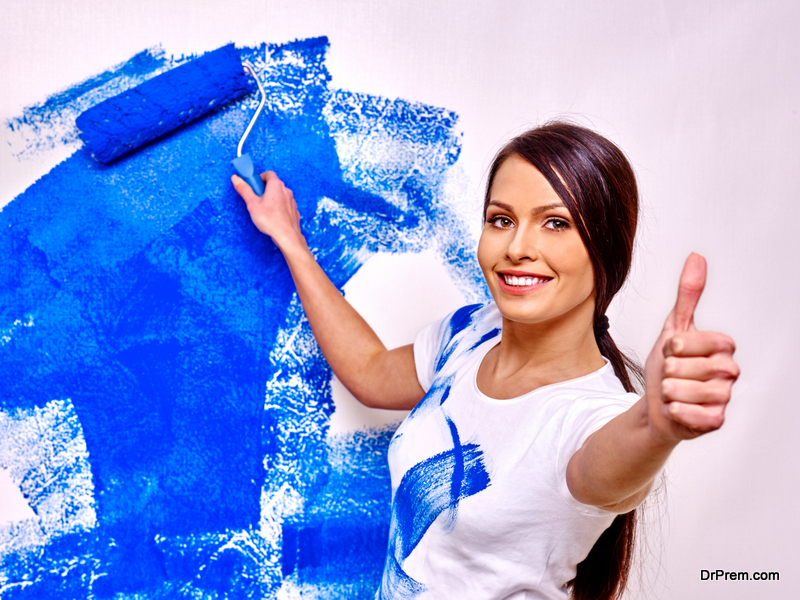 The reading nook can be the focal point in your bedroom. Set it apart by painting it in a different color from the rest of the room. The aim is to create a peaceful atmosphere where you can relax and read. Or if you are a student, you may need vibrant colors to motivate you to study through the night. Maybe you can create a private reading space in the spare room, so here are some of color properties you may find useful.
Orange – to increase energy level and heal lungs
Red – for mental stimulation and helps to improve circulation
Green – Soothing and promotes tranquility
Yellow- it stimulates the nerves and promotes memory
Blue- a calming and relaxing color
With a wise choice of colors, your room can come alive. Choose the major color, and then a maximum of three accent colors can provide enough variation. The variations of the main color, apart from being on your walls, can be used to paint the bookshelves, as well as furniture. The trims, lamp shades, area rugs, curtains and window shades can be in the accent color. You could even choose knick-knacks in the accent colors complementing the main color.
Bedroom closet reading nook
This idea is great for children's bedrooms as well as yours. Remove the doors of the closet and place a cushion or daybed for your child to stretch their legs or curl up to read. A big pile of cushions, soft toys and pillows will transform a small, bare closet into a lovely, magical place for your little darling.
Use wall-mounted bookshelves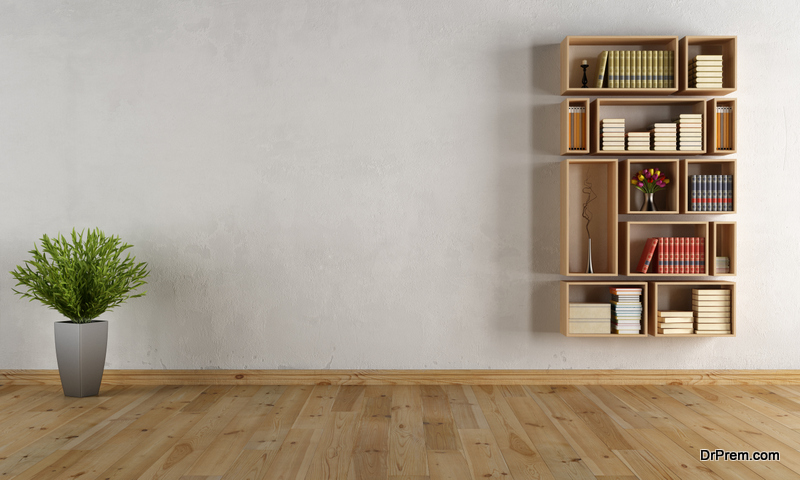 When you want all your books at hand, but don't have enough floor space, then go for wall-mounted bookshelves or bookshelf. You have the luxury of finding your favorite books instantly. A comfortable chaise lounge, or armchair, overhead or table lamp will complete the bedroom private reading space.
If you have a larger bedroom, then you could use a combination of wall-mounted and freestanding shelves to store the books. There could be a desk to place your laptop or comp, file cabinet and printer to have working space right in your room.
Perfect lighting
Lighting plays an important role. Try to have the private reading space in a small room or bigger room near the window, where there is a possibility of sunlight streaming in the windows. Natural light is a great mood booster and vitamin D is beneficial for health in many ways. Sunlight in the room makes it a charming room, with a positive and vibrant vibe.
A dark environment with very little light gives the study or reading area an intense look, but some find it quite off-putting, uninviting and insufficient.
The lighting for the night and cold, winter evenings should be bright enough to give an optimistic cheery feeling. You can maximize the light effect by installing light wall colors and installing mirrors in the room.
To read comfortably in your private reading space, you have to see the words clearly. Overbright lighting is also unnecessary. To get the perfect mix, combine ambient lighting with a task light.
A beautiful lamp or overhead light will suffice to reduce eye strain. If you have a study desk in your room, you can go for a table lamp which lights up the desk or workspace.
Lights or lamps which mimic natural light is best – so maybe a cool white bulb would be a good option, rather than incandescent yellow bulbs. You get LED lights in yellow also, if you like the war yellow lighting.
Place your chair in a discreet corner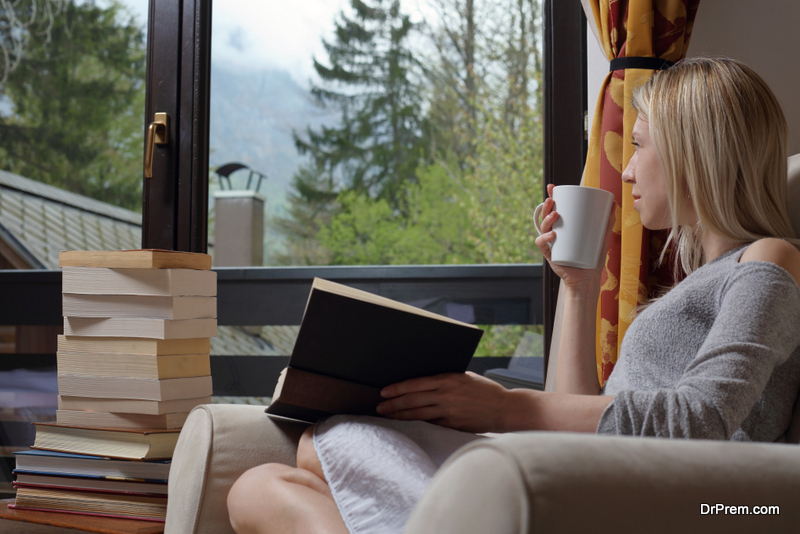 Whether your private reading space is in your spare room, or in your bedroom, it should be away from distractions. To focus on a book, you have to eliminate all kinds of disturbances, including other people. Tuck the chair in your spare room or living room in a corner, so that you will not be disturbed by people coming and going.
If you have a one room apartment, you probably have only space in the living room for the nook, so it has to be out of the way of others. Differentiate the reading space from the living room décor with an accent wall or area rug. Place the chair on the rug to conserve space.
Set the right temperature
Your room should not be extremely cold or hot, which could be very uncomfortable, especially if you do more than light reading. If your private reading space includes a desk you use to study or work, then maintaining a comfortable, just right temperature will be highly conducive to your work. If you have the budget, install designer radiators that look good and give the right function.
Throw a blanket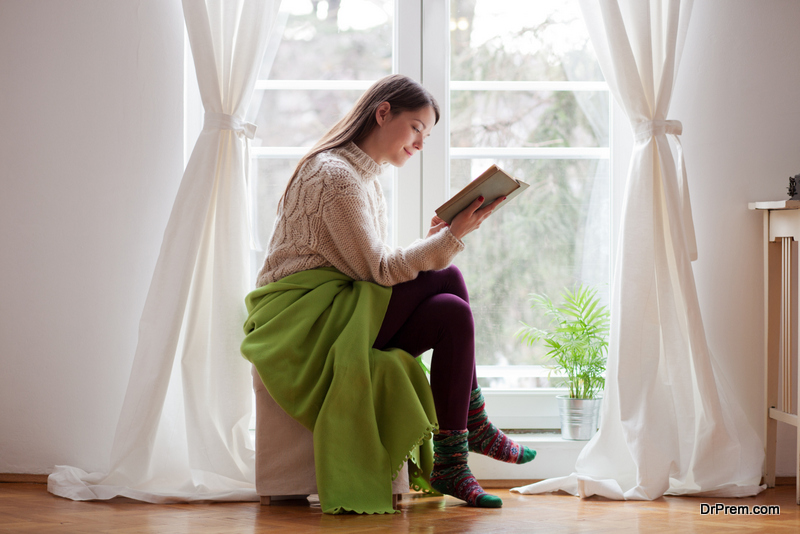 When it gets colder, it's the perfect time to add a cozy throw blanket to your reading chair. With the blanket and a hot beverage, you can overcome many chilly winter nights. Knitted blankets look charming, but any other throw blanket will look nice too. You can contrast the color with the color of the chair. If you have a neutral, solid colored chair, then add a vividly patterned throw blanket.
Reading nook on the landing
Your landing can be converted into a reading space with some shelves (wall-mounted), and daybeds piled on top of one another. Place plenty of pillows to provide some soft comfort. Another advantage of a reading nook like this one is that any overnight guest can crash here for the night.
Add a chaise lounge to your study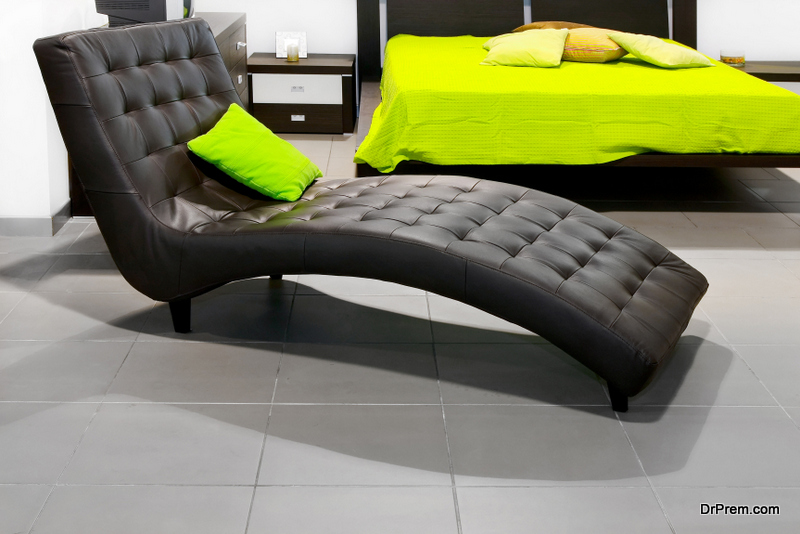 If you already have a study where you do your work, add a comfy yet appealing chaise lounge to get some respite from sitting on the chair for hours. Chaise lounges make great reading spots or resting spaces. The design can be minimal to match a plain desk. But if you have a large, opulent desk, then go for a chaise lounge which looks deliciously luxurious. Add some beautiful, small paintings to the wall behind it and see the difference it makes to your study.
Besides, having a seating arrangement such as couch, sofa or chaise lounge can be of great use if you want to have a casual meeting at home, or to just entertain people who drop in, in the privacy of your study. And of course, you cannot beat the fact that the lounge will serve as your very own private reading space.
Buy the right chair
As we have mentioned earlier, a reading nook can be just a comfy chair. But do choose this chair thoughtfully. A reading nook is your space completely, and should reflect who you are. It should be a unique, one-off chair which stands out, but does not clash with the rest of your décor. A statement, vintage piece can elevate the look of your room. Whatever the style of furniture, select a chair which offers the right back support and you can sit in it for hours without feeling the need to get up.
Perfect desk for the bedroom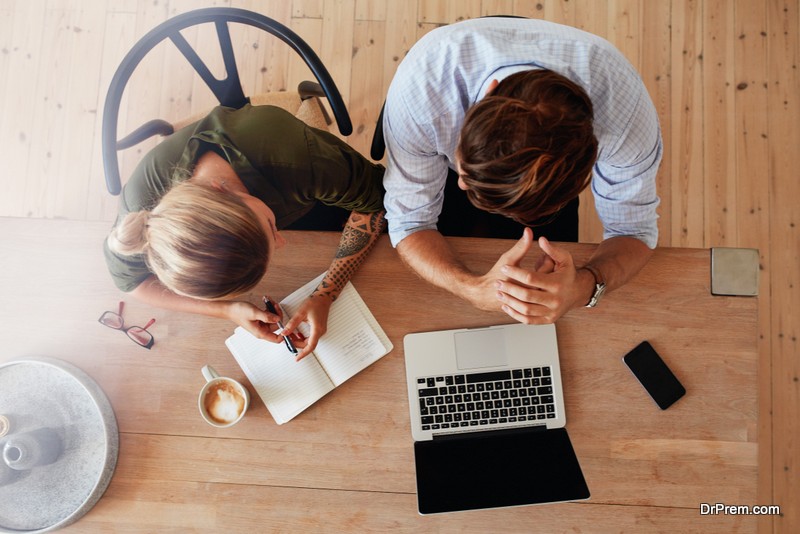 Create a designer bedroom reading space by adding a work desk which has a finished look, and is quite sturdy. If there is enough leg space then the chair will fit right into the desk. One part of the bedroom can have the desk, with a reading chair near it and wall mounted or freestanding bookshelf or cabinet. Make the most of your bigger bedroom and transform it into your personal retreat where you work and read at your pleasure.
You should always work sitting at your desk, even if the bed looks too inviting, especially in the winter. A private reading space in your bedroom is perfect as you can rest on your comfortable chair instead of slipping into bed, when you take a break from studying.
Window seat reading nook
You don't need to have a built in window seat, but you can place a two or one seater bench underneath the window with some plush throw pillow. Cradle the seat with two bookcases on each side, a small area rug and two chairs flanking the window seat to create a reading nook without taking up a significant amount of floor space.
Bedroom Verandah/balcony reading space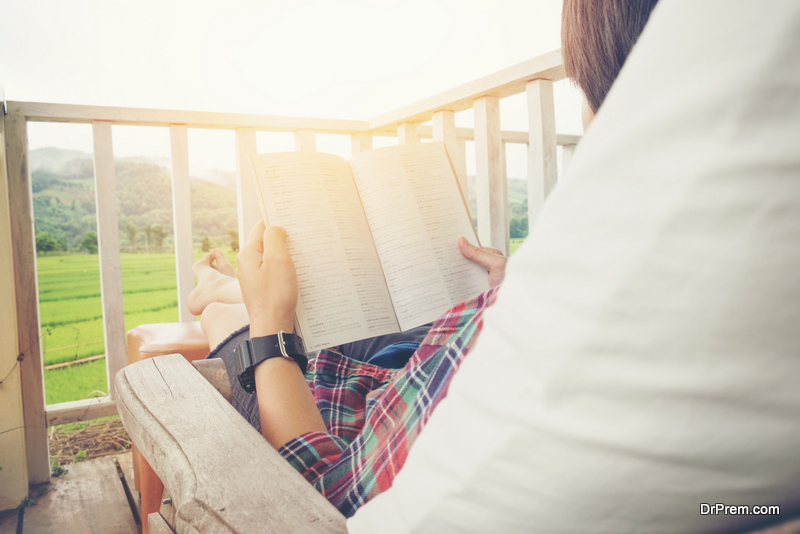 Make a private reading space in your bedroom balcony. Just attach some wooden planks to the wall to function as bookshelves and a small, comfy couch and side table to enjoy reading whenever you want to. Or else, if you have a long, narrow enclosed verandah, several wooden planks (salvaged or recycled) can be fixed at different levels on the wall as bookshelves and décor space. A nice family couch with a throw blanket would be ideal for this reading space.
Section off the reading nook
The best way to separate your private reading space from the rest of your bedroom is to section it off. Surround the chair with an L-shaped bookshelf, or wall shelves. You will have all your novels at arms' length of the chair. If the room is big enough, or if you want a screened in reading space in the living room, buy a beautiful Japanese screen or latticed wooden screen that can partially hide the nook. It would be a completely private space where you can spend time with yourself without any visual distractions.