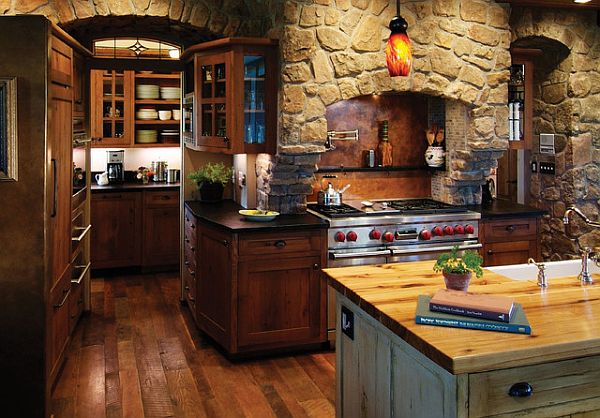 Most of us yearn for some peace in our daily lives, a desperate break from the mundane fast-paced city life for something that is more casual and laidback, something more country like. Fortunately, there is a way one can achieve that calmness without necessarily traveling to the countryside. Incorporating a few rustic design elements in a home would give it that much needed casual and peaceful country look. If you are looking to achieve the same with your home, here are some rustic décor ideas starting from the most important room of the house, the kitchen.
Opt for Dark Wood
Your kitchen would definitely exude a rustic appeal, if you opt to bring natural elements like dark wood for the floors, ceiling beams and cabinets to your kitchen. While the wooden floors would creak beneath the feet, the marks on the ceiling beams and wooden pine would show the natural elements of the material at its best. If you want to add some coziness to the design, opt to color the cabinets a barn colored red that would add to the country look as well.
Deviate with Lighter Wood
If you have a small kitchen though, opting for dark wood can make the space look smaller and darker. In these cases, your best bet would be to opt for bleached and painted white wood instead. For instance, you can bleach the wooden beams a natural white stain in order to lend that rustic charm to the kitchen. You can make the space airier by opting for solid wooden cabinets and cupboards made of light colored pinewood. The great thing about this design is that it would let your kitchen achieve a rustic and modernistic look at the same time.
Add some Stone Elements
Adding some stone elements to your kitchen can help you achieve a better rustic appeal than when using even wood. Whether you opt to cover an entire wall with large river rock, opt for a flagstone floor instead of the standard wooden one or add subtle traces of the elements in the fireplace or kitchen countertops, you can never go wrong with stone when aiming for a rustic kitchen. Just be sure you add some appropriate furnishings to complete the look. Other stone elements you can opt for instead of river rock include granite and quartz, both of which would enhance the rustic appeal of your kitchen.
Consider a Hanging Pot Rack
One of the more visually appealing highlights of a rustic kitchen is that quintessential hanging pot rack right above the kitchen countertop or island. Consider hanging one of the huge wrought iron pot racks from the ceiling, making sure you hang only copper and metal pots from it. If wrought iron is too expensive for you, consider achieving the same look with other budget friendly alternatives, including old window frames, old barn ladders or even large pieces of driftwood. It all depends on your imagination.
Dab some Primitive Paint
A rustic kitchen is never complete without the aged chipping paint on countertops and cabinets. While you cannot have the entire kitchen repainted that way, you can opt to search some flea markets in the area to get your hands on vintage primitive pieces at great prices. Then again, you can achieve the look by opting to repaint just a few of the cabinets and cupboards. However, make sure you leave the dings, dents and grooves untouched to perfect that rustic look. Be forewarned though that using chipped paint can make your kitchen look more laidback and casual. This may not be the right choice for you if you want the kitchen to exude a more formal vibe.
Summary
Achieving a rustic look for your kitchen may not be that hard a task, provided you search for the best ideas and designs for your kitchen. These pointers are quintessential additions to any rustic kitchen and may help you perfect the look you are yearning to achieve.