Tired of your home looking the same as ever? You can completely transform you're the look of your home in just a day. Consider an economical makeover which would refresh the interiors, which is within your budget. It's easy and doable, but you must plan it out before. Jot down the things/areas you just can't bear to look at anymore, and make the changes. Check out thrift stores, ethnic markets or sales and get the best deals. Simple decoration choices would make the rooms into cozy spaces, which are a pleasure to look at. Check out some great one-day home makeover ideas, to create a beautiful space in just one day.
17 simple one-day home makeover tips
Plan it down to the smallest detail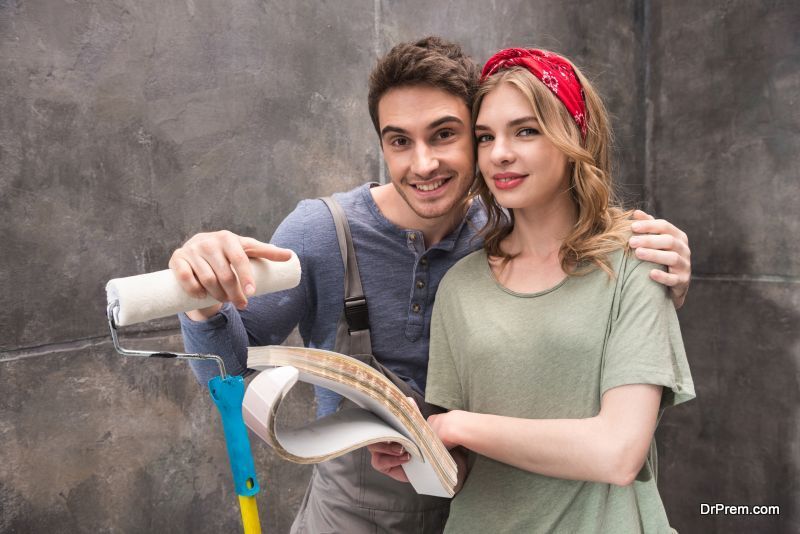 You can't plan and carry out the makeover in the same day. Prepare yourself, select the ideas, get the materials you require all through the week, assuming you are planning to do this on a weekend, which is usually the best time to complete a makeover. Identify the room/s or areas in your home which require attending to the first.
You might decide to do small changes in all the rooms, kitchens and bathrooms, or just concentrate on refreshing just one room. Whatever your plan, jot down all the ideas for your one day home makeover what you want to add or remove, so it will be easier to remember.  Reference catalogs, magazines and go online for some inspiration.
Make unique purchases which will make your home interior appealing, interesting, beautiful and inviting.
Budget
Do you have a budget in mind? If so, add 20% to it as that is the amount by which the budget usually increases, even if you're operating on shoestring budget.
Have a home makeover party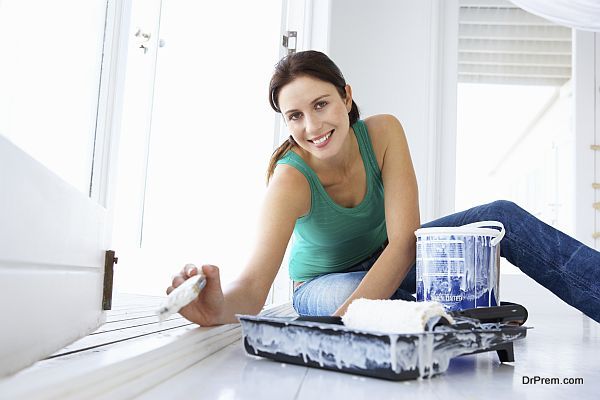 Redecorating one room may be possible on your own, especially if there is no painting involved. Otherwise, it is best to ask your family as well as friends for a makeover party – ply them with food and drinks and with their help you will be able to get everything done in just one day. You'll have a lot of fun redecorating and it will become a pleasurable and memorable experience. Don't forget to click the before/after photos to remind you of the great job you did!
Decide on a focal point
One of the tips for a one-day makeover is to determine a focal point in the room. Everything should be based around that, for example, the bed in your bedroom, or your fireplace, or it could be an accent wall. Your focal point should be the aspect you most focus on, so that you achieve a stand out look at the end.
Paint the walls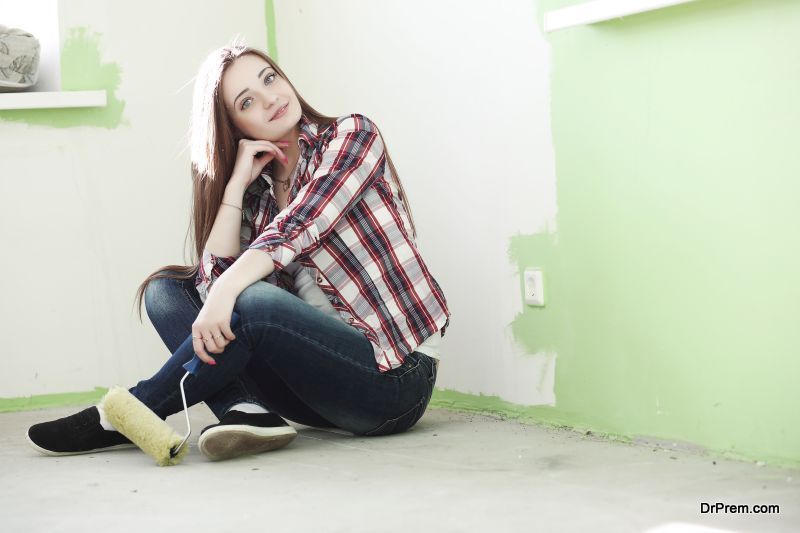 There is nothing which freshens up and ushers in a dramatic change to any room like a coat of fresh paint. Consider applying paint on just one wall, the accent wall, or the fireplace wall, or the back of a bookcase. Kitchen walls could be repainted in one day, as the area is small, and is one of best one-day makeover ideas to create a cheerful and bright kitchen.
Some of the major paint companies have a feature on their website, which allows you to upload a photo of the space to be painted and color the space virtually. This will save a lot of time and give you clarity as to the best color for a particular room. There are color-matching sensors which may be a little pricey, but worth the money, as they help to buy the exact shade. There are apps also which you can utilize.
Paint your furniture, accessories
Another of the ideas for a one-day makeover is to paint furniture, accessories, light fixtures, teacarts, plant stands, end tables and more, to renew their look. This is not as time consuming as painting whole walls. Use bright colors to add a pop of color to your interiors.
For these small paint jobs, you can get the 'sample' paint bottles/cans, which many stores offer for free. Spray paint is another great option to paint things like the back of shelves at a nominal cost. Tired looking knick-knacks will come alive with the application of a beautiful color. Choose glossy paint in white, blue, red or cream for flowerpots and vases – they will look amazingly chic sitting on your bookshelf, stands or tables.
Fabrics can be repainted as well, such as rugs, pillow covers of canvas, cotton and silk materials. Curtains too can be dyed, but first, test your dye on something which you are not very attached to!
Metallic paint can make a big style statement. It adds elegance and sophistication – for instance, chrome paint, brass accents and silver or gold trim look magnificent on vintage drawer pulls, handles, knobs and more. Small paint cans be bought in your neighborhood home improvement store to give the best effect for the lowest cost and time.
Thus, paint can be used in a myriad ways to transform the look of your home.
Use bold/accent colors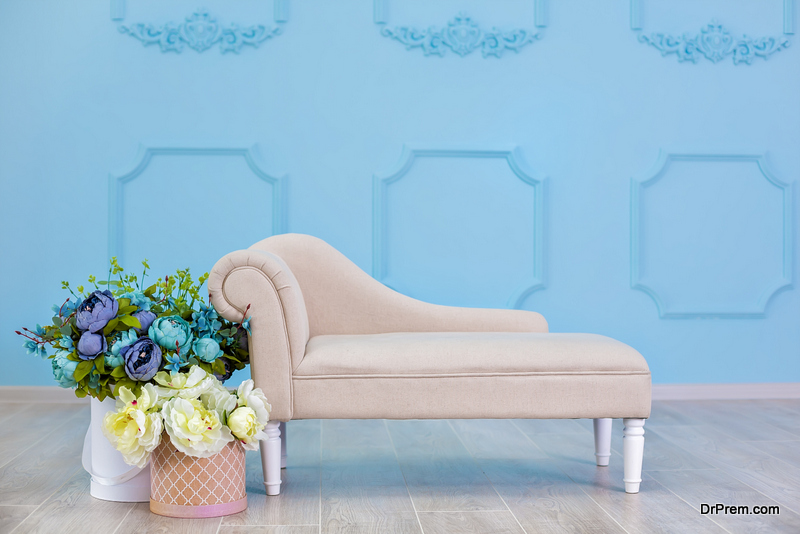 One of the tips for a one-day makeover is to use bold and contrasting colors to add life to your space. It need not be an entire wall which you paint in an accent color, but just changing the cushion and pillow covers into some bright colors such as peacock blues, emerald greens, deep maroon and red will add new accent into the space. Tying red ribbons on your blue curtains or adding ribbons in a cheerful hue as the trim to your white lampshade is another of the simplest hacks for a one-day makeover!
When you plan ahead, you can buy remnant swatches in gorgeous materials and colors to match your main décor as well as an accent color, at throwaway prices. If you're not into sewing, you can stretch the material and staple it to your dining room chairs or your favorite armchair which needs a new fabric.
A great method to choose an accent color for your space is to look around and find a bright color which is already present in your furnishings or paintings. Then choose that color and use that to liven up your space.
Add bright colors in a background of neutral or black and white colors. A daring, bold patterned tablecloth in magenta will add glamour to your dining room instantly.
Add some DIY art
This is something which you may need to prepare for before the planned makeover day. Frame a huge print and make it the focal point of the room. Or paint a big canvas in striking colors. Kids can try their hand too and they will be delighted when you hang their artwork in their room or living room. If you have the budget, you can buy framed prints or paintings online. The artwork will have a big impact for a comparatively low cost.
A collage of family photos also looks great and lends a personalized appeal to the space. Instead of a big collage, print smaller photos (black/white and colored) and place a group of them together on the wall. Dollar store frames work well too. You could paint existing frames in a different color to update the look.
Andy Warhol design style type prints will create a naughty, fun look. This look can be chosen for the entire home, as smaller graphic prints look fantastic on the kitchen and bathroom walls.
Rearrange furniture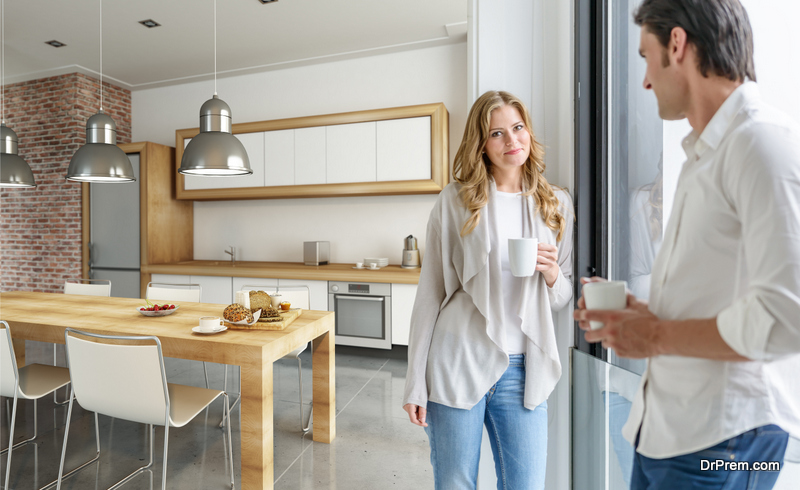 Sometimes, seeing the same old things in the same old place can get monotonous. Just rearranging the furniture, creating different paths and groupings of the existing furniture, will make your room interesting. Exchanging the furniture of your rooms can revive the look of all the rooms without you having to spend a penny. It's one of the best ideas for a one day makeover.
Move the bigger pieces of furniture away from the walls to give the impression of a larger space. Play around with the placing until you are satisfied with the new arrangement. Create small reading nooks and cozy corners near the windows to get some vitamin D from the sunlight streaming in through the windows.
After you finalize the placement of the furniture, turn your attention to the accessories and the art pieces. Keep only the favorites of best quality.
Create a welcoming hallway/entryway
The entryway is the introduction to your home and speaks volumes about the interiors. Ethnic key hangers, or vintage look keyholders/hangers with a shelf will make the hallway stylish with minimum effort. Carpet runners might be a good idea too. Any kind of mirror will elevate your entryway. Choose round, rectangular or square shaped to make a lasting impact.
Revive the floor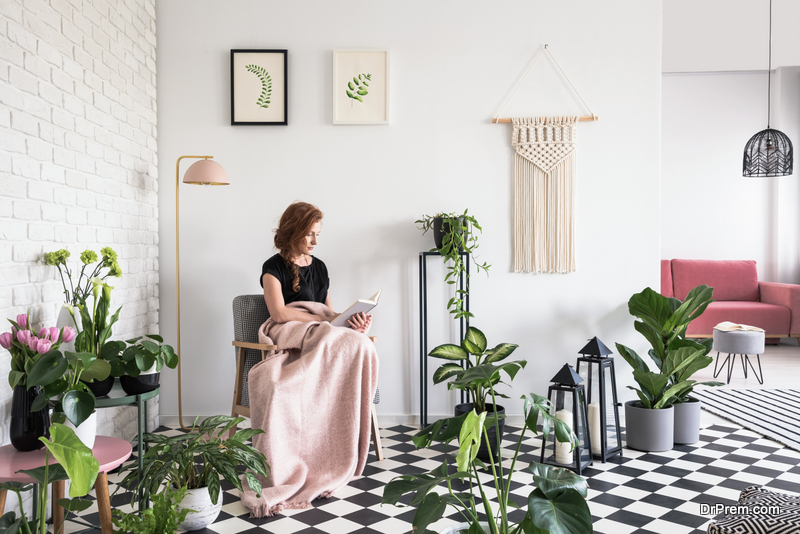 Select a small area on the floor to paint a geometric pattern or a flower pattern, eliminating the need for a rug or carpet. Painted floors look impressive and unique and can be a lovely addition to your home.
Area rugs can cover any floor in an inexpensive, effortless way to give a new lease of life. No need for painting or installing wall-to-wall carpeting when you can lay the area rug over the floor which might be stained or looks completely worn out.
Visit thrift shops/ethnic markets
Tasteful home décor need not be expensive. Instead of going for costly décor objects, find superlative sculptures, paintings, and craft pieces in ethnic shops, or in thrift stores. Corner tables, side tables, knick knacks, light fixtures and more can be picked up at incredibly low prices. All you need is imagination. If you are stuck for ideas, consult magazines, or get help from your friend who has great taste and knows all the right places to shop.
Add some greenery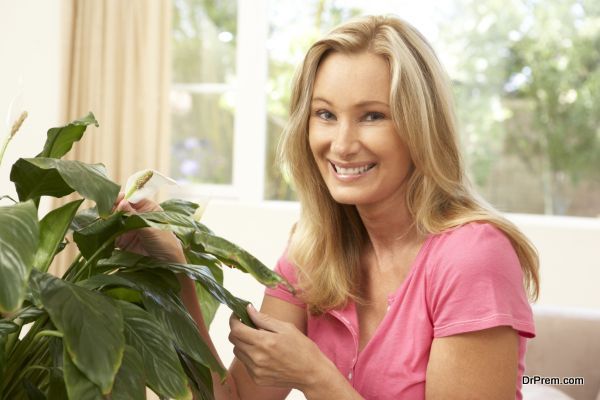 Plants add life to any space. Planters in the living room, or air plants which need minimum care, can uplift your mood instantly. They provide fresh air and oxygen. Choose plants which can improve the indoor air quality by sucking in all the pollutants indoors.
Fresh flowers in a vase are extremely eye-catching and beautify the room. Small herbs on the kitchen sill, some hardy plants in the bathroom counter or windowsill will elevate the look and feel of these spaces. Create a green corner in your home with a group of planters along with a water feature. It is very relaxing to listen to the water and the spot of greenery is great for mental and emotional health.
If you do not have the time to look after real plants, buy some fake flowers of good quality. These will do the trick as well.
Share your heirlooms/memorabilia
Do not hide your heirlooms or vintage décor items passed down to you in the attic. Dig them out, polish them or clean them and display in a place of pride.
Beautiful antiques passed down from generation to generation create nostalgia and keeps memories alive. Every heirloom has a history of its own, which you can share with others.
Memorabilia and mementos from your trips are also treasured items, which can be displayed. It can even be a collection of unique stones or shells, which you and your kids collected at the beach. It's another way to bring the great outdoors into your home.
Use beautiful wine bottles as striking vases. Frame tickets from your favorite concerts or games and group this with similar items.
Redecorate the kitchen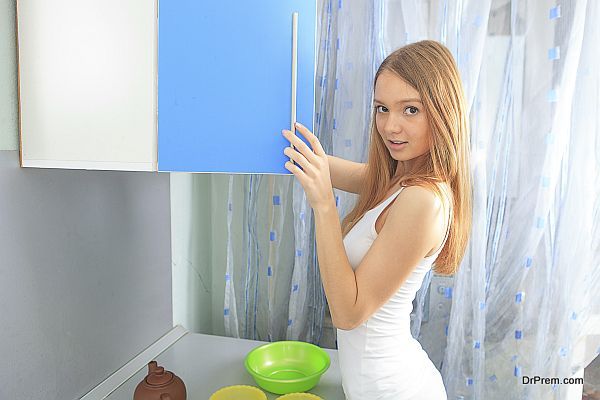 Kitchens tend to look cluttered when there is no space. Add some shelves and racks to increase storage. Buy coordinated storage containers, jars and spices and keep them on the shelves. This can be easily accomplished on your one-day makeover mission.
A weekend project that is worth the time and effort is to give a spellbinding facelift to your kitchen. You will need broken tiles, or small pieces of tiles, grout and silicon adhesive to create a personalized backsplash. Neutral tones, blue and white, red or any color will look great.
Replace the handles and the knobs to give a new look.
Update the upholstery
Another of the easy hacks for one-day home makeover is to refurbish the worn out upholstery. Buy new covers and polish the worn out places to give a shiny new look. Sofa covers are available in all prices, colors, and materials, so instead of changing the sofa, change the upholstery at a much cheaper cost.
Bathroom makeover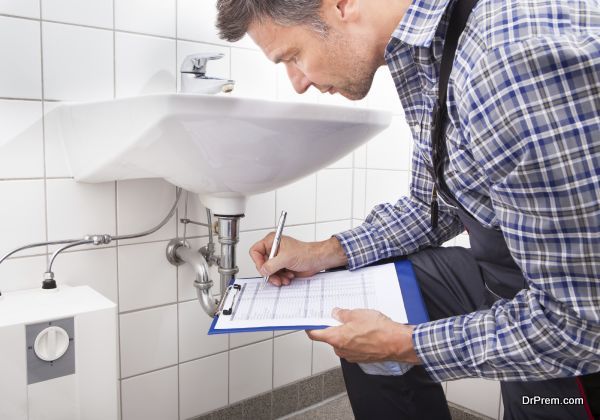 In the bathroom also, a lot can be achieved by making minor changes, such as replacing the faucets, knobs of the vanity and so on. Replace the shower curtain and include a few small plants on the vanity and windowsill to upgrade the bathroom at the cheapest cost.
There is no need to have one special theme that you have to adhere to in every room. Relax and decorate each room in a different way so that you don't lose interest, and the décor does not look contrived and artificial.