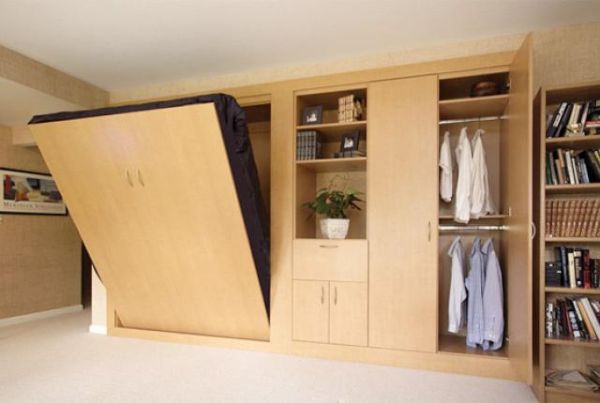 With the size of homes reducing drastically, the need has arisen for modular furniture that can be used when needed and put away afterwards. More homeowners are on the lookout for such furniture which would enable them to enjoy the comforts of a modern home without crowding the living space too much. For instance, the need of the hour is for space saving beds that would give you the warmth and comfort of a standard bed without taking up too much space in the bedroom. Take a look at these amazing space saver beds that would make your home all the more spacious and modernistic.
Pull Down Bed
A lot of companies have launched modular beds which can be pulled down from a seemingly invisible cupboard or wall. The bed comes with a flexible frame that can be extended to support the bed when pulled down, and then folded back into place afterwards. If your bedroom does not enough space to support a double sized bed, you can consider this option to save significant space.
Bunk Bed
Another innovative way to save space in your bedroom is to combine the bed with another additional element like the workstation. Accordingly, you can opt for a bunk bed which will feature the bed on a raised platform. The empty area beneath the bed can then double as the workstation. You can also throw in a lounger for those short naps in between work.
Hidden Bunk Beds
A clever combination to utilize a bunk bed without anyone realizing it would be to hide it from view. This can be achieved by a modular design which would involve simply rotating the bed 90 degrees to face the wall when not needed. A metal frame attached to the wall will feature two beds aligned one above the other. When hidden from view, they will look like a normal closet or wall. But turn them around and you will be amazed to see two beds appearing from nowhere.
Closet Bed
If you have a big closet space in your home, consider transforming it into a mini bedroom itself. Prop a bed in the space and place books and decorative items on the top shelves to complete the look. This can then serve as your guest bedroom in case someone shows up unexpectedly.
Loft Bedroom
Nothing would sound cozier than a loft bed with a skylight to let you view the stars as you sleep. Not to worry if you don't have a loft though. You can simply erect a raised platform which would hold the bed above and several storage compartments beneath, thus saving space in the room by eliminating the need for a chest or cupboard.
Mezzanine Bed
This space saving option can easily be considered as one of the most romantic beds you can come across. Investing in a mezzanine can save you more space in the bedroom than you can imagine. Placing the bed on the mezzanine level will leave you with plenty of free space at the bottom for other furniture and decorations. Plus, you can opt to erect a window on the mezzanine level which would help provide stunning views of the outdoors as you lull off to sleep.
Baby Crib Double Bed
What if you have a newborn baby in the house and can't afford to have another room for him/her. Adding a crib into an already congested room would make it more crowded. Alternatively, you can opt for a combined bed which features a baby crib and a chest of drawers on the side for all those baby essentials.
However, the real beauty is the hideaway double bed at the bottom which can simply be pulled out when you are ready to sleep. This way, you get to keep a full sized bed, a baby crib and a sizeable chest in one room without overcrowding it.
Small bedroom spaces can leave you with little or no choice when it comes to choosing a comfortable bed. Not to worry though, for there are plenty of modular furniture options today that allow you to enjoy the comfort of a full sized bed without overcrowding the bedroom space.