Inspired by magical illustrations of M.C. Escher, Kylindros walk-in cabinet has been beautifully contrived by Bartoli Design. Escher is renowned 20th century artist, who created a series of mind-bending drawings that defy traditional perception and science facts.
This gorgeous cabinet is also an epitome of exceptional style that reflects through its minimalist form. The simple yet attractive cabinet design is a statement piece that will definitely add elegance and sophistication to any room – be it living room, bedroom or guest room.
Purpose of the cabinet
Kylindros is stand-alone cabinet that is designed to fulfill multiple functions. Major function is storage – it can store your personal belongings whether clothes or sports equipment. Besides that, it can also serve as an elegant cocktail cabinet, a tiny wardrobe or a cabinet for exhibiting your mementos or home decor objects. Another highlighting feature of this cabinet is its exquisite sleek layout that makes it a perfect fit for any small or large sized dwellings.
Types of internal fittings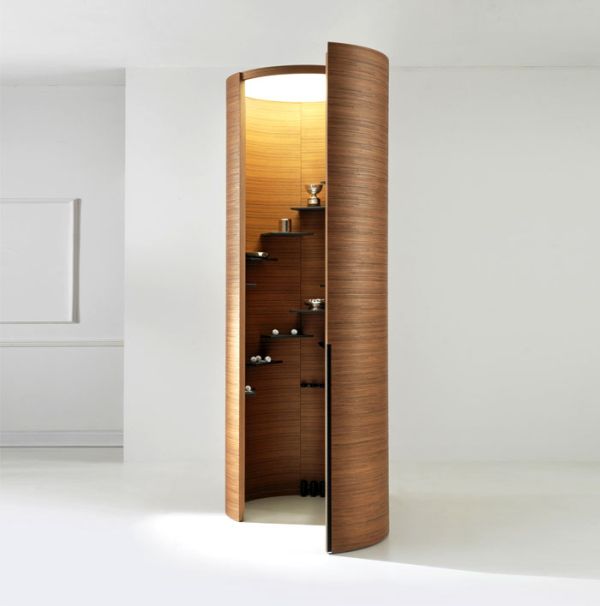 The cabinet system is available in three different types of fittings, which the user can choose as per his/her requirement. Three different fittings are: Kylindros Golf, Kylindros Show and Kylindros Coat. For the lovers of golf, Kylindros Golf is absolutely idyllic – it allows you to safely store gold equipment or other sport-related accessories. Kylindros Show consists of twelve display shelves arranged in shape of two spirals.
You can use these beautiful spiral shelves to show off your mementos or embellish the living space with decorative pieces. Last one is Kylindros Coat that's a clothing closet designed to provide your sufficient wardrobe space.
Construction
Made from wood, the sleek cylinder-shaped wardrobe boasts decor finish. Other wood finishing options can also be selected out of Teak, Oak, Rosewood, Ebony and Wenge. The basic frame of this cabinet has been divided into three different full-height parts. One part features simple door and flush-mounted handle that is made from metal for a contrasting appeal.
Other parts are shelving units and storage section for your golf equipments. The cabinet is even integrated with LED lighting to offer viewers a clear glimpse of the objects present inside. equipped with a In order to represent characterization through simple design, interior shelves are crafted into irregular patterns with fine craftsmanship of the designers.

The striking Kylindros cabinet is not only eye-pleasing, but fully-functional as well. Highlighting feature of the cabinet is its spiral staircase design that's present inside to organize your personal belongings.
Source : Interiorzine.Com