Many families, especially in most metropolitan cities of the world, where affording big houses is not a norm, face the problem of having unusually small kitchens. Due to this, the homeowners encounter plenty of hidden drawbackson a daily basis.  Some kitchens are so small so that only one person at a time can enter the kitchen or else everything gets disrupted and there is chaos all over, especially in a house with children. One of the most practical solutions to this address issue is to invest in an improved kitchen cabinet layout.
Speaking of which, there are many fabulous and simple kitchen designs which can help in giving your kitchen a larger look. These little changes will improve the overall look of your kitchen drastically and provide you with the much-needed breathing and storing space. Here are some trendy and practically useful simple and classic kitchen designsto choose from on a limited budget.
Light yellow lacquer kitchen: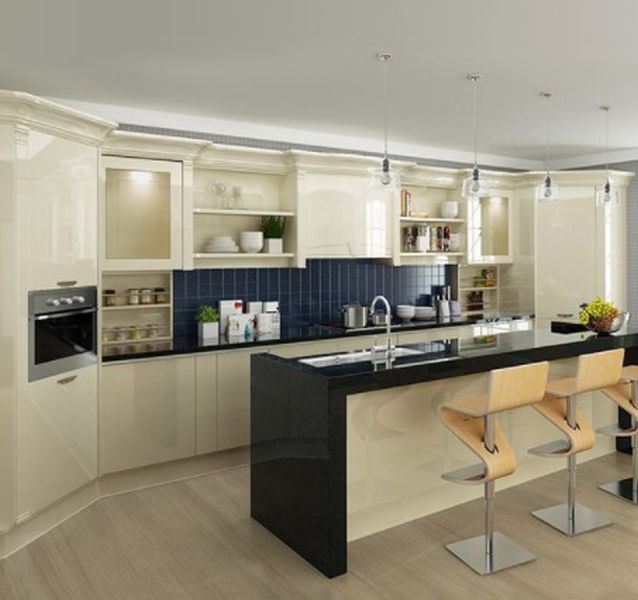 These cabinets are meant for extremely tiny kitchen designs for small space like the ones in studio apartments. In such situations, it is best to go for clean shelves than to opt for cabinets with doors. This lacquer kitchen style works exactly like that. The absence of doors gives you more room for storage. However, you may have to keep up your cleanliness game with such exposed shelves.
With this improved kitchen cabinet layout, you may not even be able to clutter them with extra boxes, but you can always reach out to them directly instead of having to open and close doors as in closed cabinets.Also, the lacquer is water-resistant. In other words, you can wipe away all dust and stains from your cabinet shelves each day without bringing down its shine in the long run. Preferably, you can use white color or any other light colorfor the walls and cabinets of your kitchen to give out an illusion of a spacious and airy room.
Modern dark wood grain U-shaped kitchen cabinet: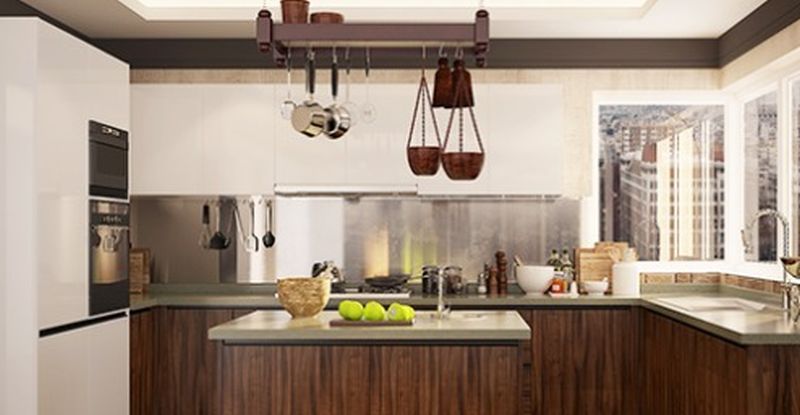 A lot of people personally prefer having simple kitchen designs. They prefer their kitchen tables and cabinets indarker colors, and not white. This may be because whites are usually a little tougher to clean and tidy up. Which is why, dark wood grain kitchen cabinets work wonders on this regard.  They give out a warm feeling while adding the spaciousness of the overall kitchen. Invest in this dark grained improved kitchen cabinet layout in a U-shaped design today to discover a whole new world of spaciousness and elegance without having to burn a hole in your pocket.
In addition to all this, U-shaped cabinets are much better than other styles when comes to capitalizing on space. They leave you with plenty of room for other purposes like extra storage, preparation, while giving it a classy appearance.  Also, use peg boards for stuff like utensils, spoons, and many other things for clearing up a good amount of area on the kitchen tables.
Modern white high gloss PVC kitchen cabinets: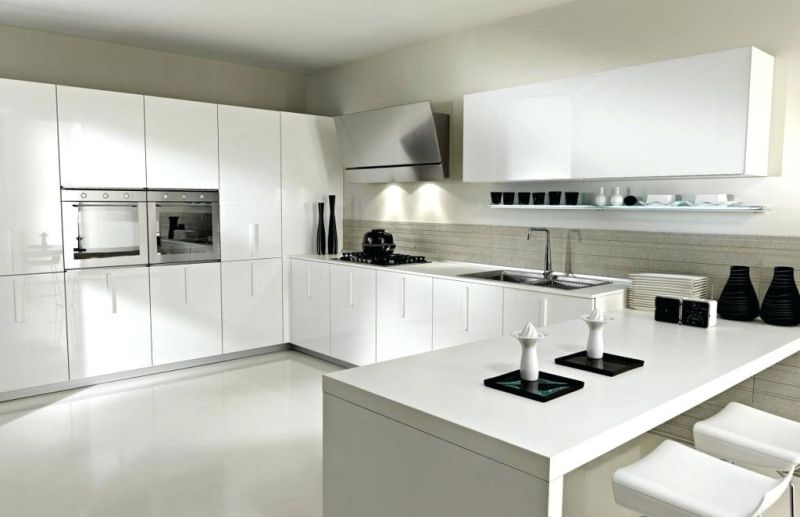 This improved kitchen cabinet layoutis a U-shaped one, bifurcating the entire area of the kitchen. With this style, you can assign different sections of the kitchen area for different tasks. The U-shape enables you to segregate activities like storage, washing, cooking, cutting, and preparation for the users' convenience.
The doors of these cabinetsare specially made for kitchen designs for small space.They provide resistance from scratches and abrasions and are prone to damage even after frequent opening and closing. Moreover, the shape of the alignment of the cabinets prevents them from running and banging into each other. Not just that,  the appearance of this kitchen is quite stylish and does not compromise the elegance of your kitchen just to add a little space to it.
Conclusion:
There are various improved kitchen cabinet layout options other than the ones mentioned here to make your kitchen appear bigger and better. Renovating your kitchen, especially a small one, may seem like a big task and a quite an expensive process, but is really not so. In the long run, there is much more to the scenario than what appears on the outside. You may feel the pinch in the beginning, but getting your small kitchen renovated to improve its space will fetch you better results in the future.
No matter which simple and classic kitchen designs you invest your money into, it all zeroes down to how well you make use of the existing space in the most fashionable and convenient way possible. Don't hesitate to try out different styles which are promising enough to allow you to capitalize as much as you can on the given limited space you have for a good and smooth kitchen functioning.