Asian interior design is known for the peaceful serenity it evokes. The hustle and bustle of everyday life is taxing and demanding, so it is a great relief to come back to a home which brings calm. Asian décor is about maintaining the balance and harmony of all the elements – the materials, the ambiance and the colors. You can design your interiors with a blend of several Asian design styles, such as Chinese, Korean and Japanese. Let's take a look at some of the Asian inspired interior design living room ideas:
17 Asian interior design ideas for the living room
 Minimalistic look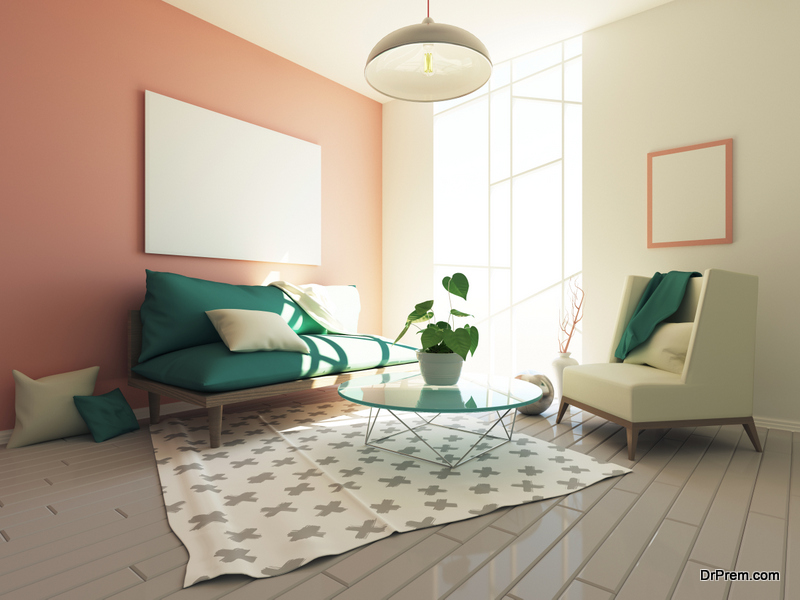 Asian style living rooms are most often austere and simple. A contemporary Asian interior design living room would have clean, well-defined ideas with minimalistic decorations. The Japanese style has a sleek symmetry and the idea can be incorporated with very little changes in your existing style. You have to take a step back and get rid of all the unnecessary objects in the room. Only the functional yet beautiful objects should be in the room. Blue tones reminding of water, brown for earth and green for plants and trees should be used in the form of accessories along with predominantly white color of the upholstery.
Deep purple and rich red colors in Chinese decor
The Chinese interior design idea for living room includes a preference for the colors purple, red and gold to grace their living room. These colors symbolize prosperity, opulence and good luck. Red and gold combination is supposed to be very auspicious and lucky. The walls could be of a lighter color such as light blue or white, which would be a perfect foil for rich purple drapes, gorgeous red-gold cushions and accessories. To complete this look, add some ornate black furniture items, oriental rug and traditional Chinese lantern.
Other colors which play a definitive role in Chinese interiors are yellow, green and blue. Yellow used to be the special color designated for the Emperor and ordinary folk could never use it. Green is the symbol for tranquility and is widely used. Blue denotes nobility and is used in an unobtrusive fashion by the nobility.
Natural light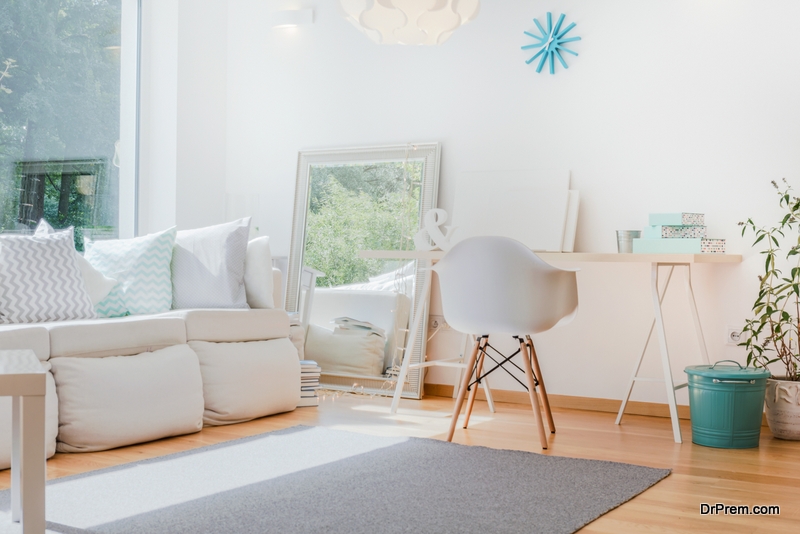 Natural light which floods the interior is another main aspect of Asian interior décor. The light is believed to be better for spiritual harmony and spatial harmony. Skylights and large windows are used to let the abundant sunlight inside the home, creating a cheerful indoor atmosphere. If you are considering to decorate/redecorate/modify your space in the interior design living room Asian style, then you might think about adding skylights to facilitate more light during the day. Leave the blinds and curtains open so that you enjoy basking in the sunlight within your home.
Light colored wood
The subtlest color of wood is used in Korean interiors to emphasize the airy lightness of the home. Light timber is used in ceiling beams and furniture to create a soft and soothing look. In Korean style interior design living room, there is sense of space which allows the individual to relax. As a contrast, you can add richer tones of wooden chairs. The material can be palm, teak and bamboo, which are the favorites of Korean interiors.
Textural, visual balance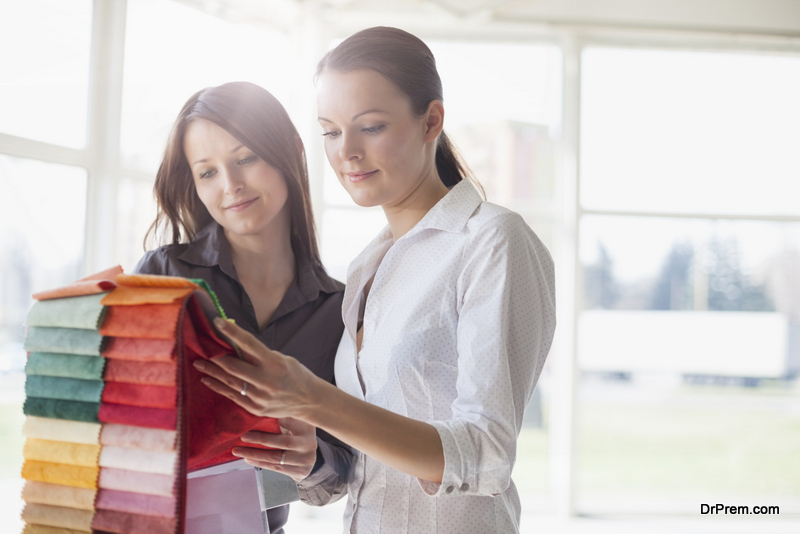 Balance is perhaps the most emphasized aspect of Asian style interiors. It is achieved through various means, and all the colors, materials and textures are carefully thought out and integrated to acheive the correct balance. Many interior designers add natural stone décor features, wooden floors, glass partitions, bamboo blinds, cane furniture and greenery to evoke the feeling of being one with nature within the home.
The balance in the décor helps to create balance the emotions within the residents, therefore the importance of balance in Asian style interior design ideas for living room cannot be overstated.
Vibrant colors in Korean interiors
Though the predominant colors are muted in Asian style, vibrant colors are also used to create a beautiful contrast. This adds interest to any décor scheme and stand out in the vibrant setting. One of the ways to add color in the Korean interior design ideas for living room is by adding quirky décor items. Regal and fun red colored teacups and sets, red and gold cushions create a luxury look. Koreans also love to display vintage pieces of furniture or accessories.
Keep an eye out for unique, vintage pieces in straight lines to make your living room charming and attractive. Retro vases and tea sets in white and red colors will stand out in the muted setting. Do not overdecorate, but restrain yourself to displaying just a few pieces which are truly stunning and stand out.  A lovely old cabinet in deep rich wooden tones is a find. You might include anything in the shabby chic look too.
Varnished bamboo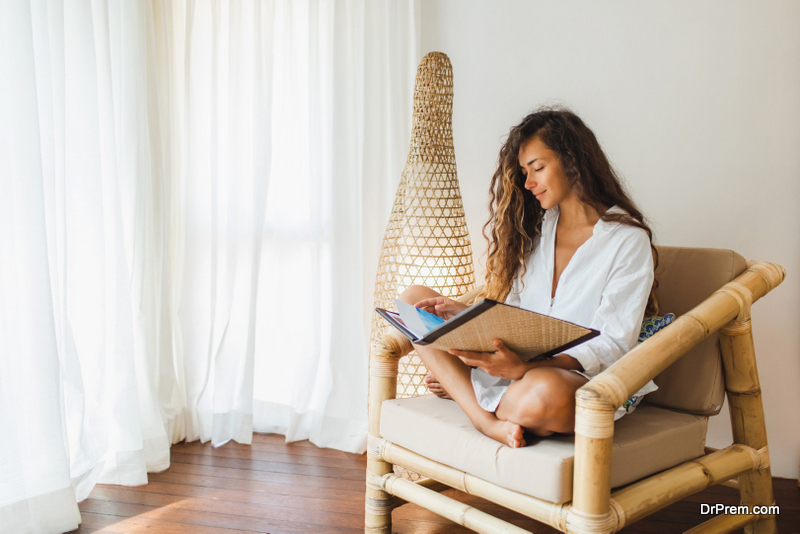 Strong and sturdy, varnished bamboo is the main material used for furniture in Chinese interior design ideas for living room. Bamboo is durable, and elastic is very commonly available in China. The craftsmanship of bamboo furniture is unique, and after the pieces of furniture such as tables, chairs, deckchairs etc are finished, then multiple layers of varnish is applied. Carving on the black varnish creates an effect which is unmatched.
The technique, known as intarsia tech nique, is a distinguishing feature of the Chinese interiors. It is basically a technique of inlay fashioned out of thin plywood of many shades, to form the top surfaces of tables and cabinets. Incrustation with tortoise shell, mother of pearl and other valuable wood is used to decorate cabinets and other décor items.
Create a tatami corner
To infuse Japanese style in your décor, create a tatami corner. If you find it hard to DIY, then you can buy tatami covered storage units and cubes which can fit together in a raised tatami platform. This corner can be used to have meals in, or rest. Tatami corners lend a genuine Asian touch to your living room.
 Flooring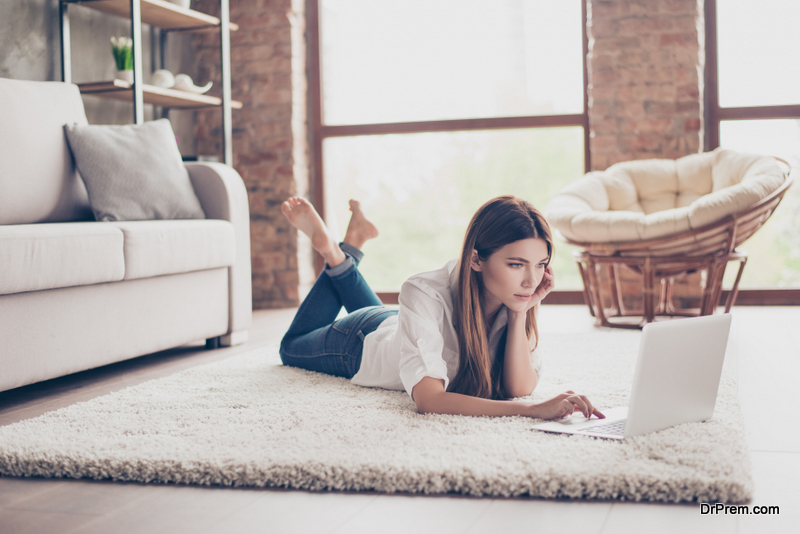 To create an Asian inspired living room, the flooring can be changed or modified. Stone tiles and massive boards of dark or light color, with a subtle red tint are ideal. You could use the same color scheme of the floor using any natural and sustainable floor material such as bamboo, cork or wood. Ceramic tiles are also trendy but the color choice remains the same, and without any garish decorations. Plain ceramic tiles which are of a single color, and with a tinge of red can be used.
Laminates and carpets are used to cover the floor. In Japan, the carpet colors are neutral, in China the rugs or carpets are multicolored. But of course, individual tastes vary, and you can opt for the colors which define your personality.
Floor seating
Oriental décor schemes do include floor seating or have low furniture. Grandiose furniture is usually avoided and an unpretentious, elegant décor is preferred. Traditionally, floor seating was used in all Asian cultures. Small, low tables were used along with the floor seating. Sometimes the seating can have comfortable floor cushions to sit on, or cushions can be used only for back rest.
Cane and bamboo mattresses or mats which are handmade with utmost care are preferred. Floor seating is very convenient and adds to the functionality of the space, as you can pack it up and store it when you need an empty floor.
Futons and simple mattresses can be used to sleep on. Floor seating and sleeping interior design ideas for living room and bedrooms are inexpensive and look elegant.
Lighting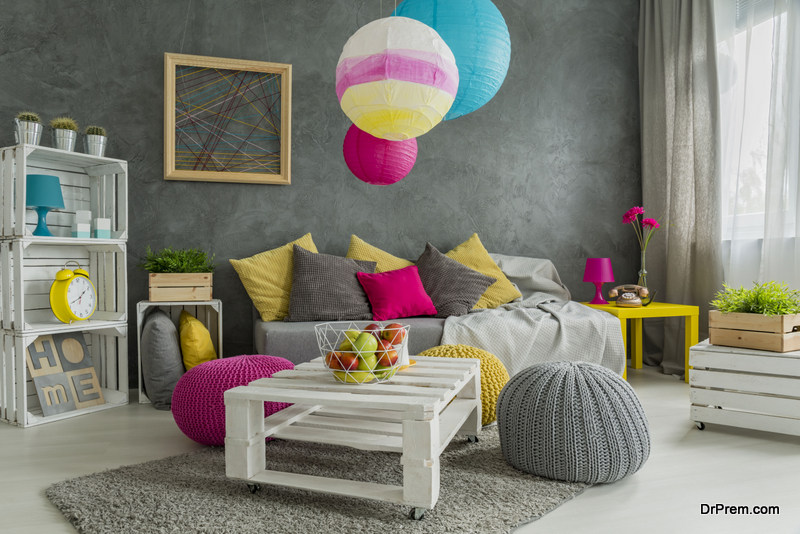 Lighting can make or mar your décor. The interior design ideas for your living room comprises of installing the right kind of lighting to generate the Asian vibe. All Asian cultures have their own signature lighting styles, which you can choose from. If your décor leans more towards the Chinese style, then include red paper lanterns to get the authentic Chinese style.
Sculptural lights, hanging paper lanterns of white, cream or beige color and candles which are lighted up, make your home a most pleasant and inviting space.
There are many modern lighting features which follow the traditional Japanese 'Andon' style of lights. These lights are encased in paper which is stretched over wood, metal or bamboo frame. The glow of light emanating from traditional oriental lighting is unimaginably peaceful and serene.
Add a water feature
Any kind of water feature is prominent in the Asian styles- Japanese, Chinese, Korean and Indian. It can be in the form of water fountains, as the sound of water flowing is considered to be very positive according to Feng Shui, especially in the living room, or even out in the yard. Most interior decor in the Japanese or Chinese interior design ideas for the living room open out into the backyard where there is often lush greenery and water features such as koi pond or water fountain. Reflecting pools too are an incredibly beautiful addition and have a calming effect. Water features make the living room space fluid and harmonious with nature and can be treated as the focal points of the living area.
Wall décor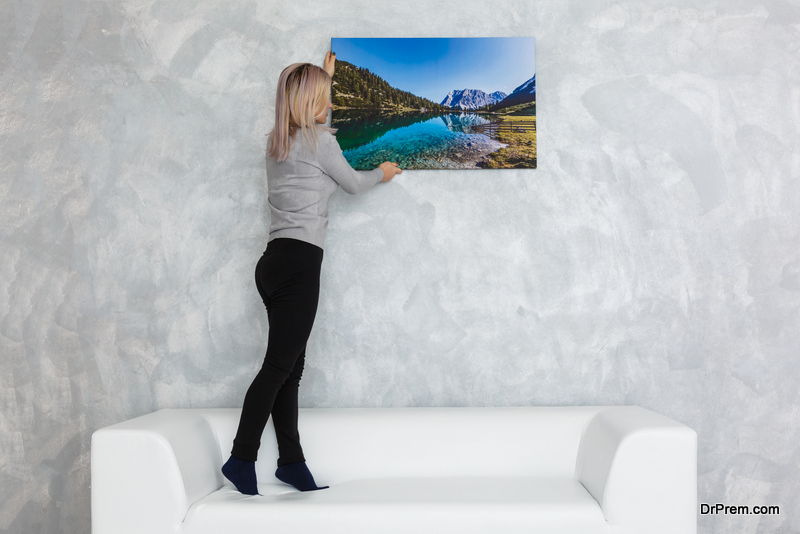 Interior design ideas for living room in the Asian style involve painting and papering, hanging paintings or painting natural flora and fauna on the walls. Wall paper was a Chinese invention which ultimately became massively popular in the West. Nature themed wall paper, or painting dwarf trees, birds, flowering plants and mountains are acceptable and widely recognized décor elements from the east.
Each of these elements have a special and particular significance and meaning, so learn the underlying meaning before painting your living room walls with these symbols.
A modern wall decoration popular these days is to have a dark wooden wall which is in contrast to other light colored walls. Wall paper of natural wood toned color and pattern would be an easy and affordable way to integrate this idea.
Wall décor is often the perfect background for the other elements. Apart from the nature themes which can be painted on the walls, you can paint the walls in understated tones of blue, gentle creamy shades and sometimes an elegant grey. According to the interior design ideas for living room in the Asian style, the walls should be an ideal backdrop or be one of the focal points of the room.
Screens and other zone separators
To demarcate separate areas, in apartments or in large homes, screens that are mobile as well as stationary screens are used. The screens may be painted screens or plain, depending on your taste. Screens depicting dancing ladies with fans or the four seasons, are gorgeous and instantly elevates your living room into an elegant and refined space.
Ceilings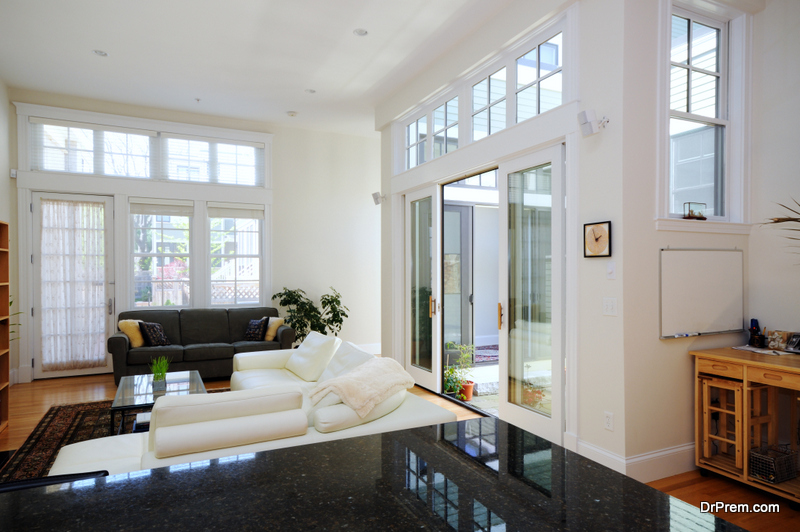 Every part of the room including the ceiling is a design element. Ceilings are usually painted white or cream and have multi-levels creating the illusion of volume. The lights colors are used to simulate the sky and lighting enhances the effect.
Additionally, straight, thick wooden beams in dark tones are used. Rectangular shapes are favored over other shapes.
Chinese lacquer furniture items
If you have neutral furniture and décor elements, and you want just one element to define the Asian décor style, then opt for a Chinese lacquer cabinet in black or red with golden design on it. Black lacquer side tables can act as stands for your vases. Umbrella stands, curio cabinets and other lacquer furniture items are incredibly beautiful and stand out amongst the neutral backdrop. Lacquered furniture is pretty and one of the best interior design ideas for your living room. 
Sustainable design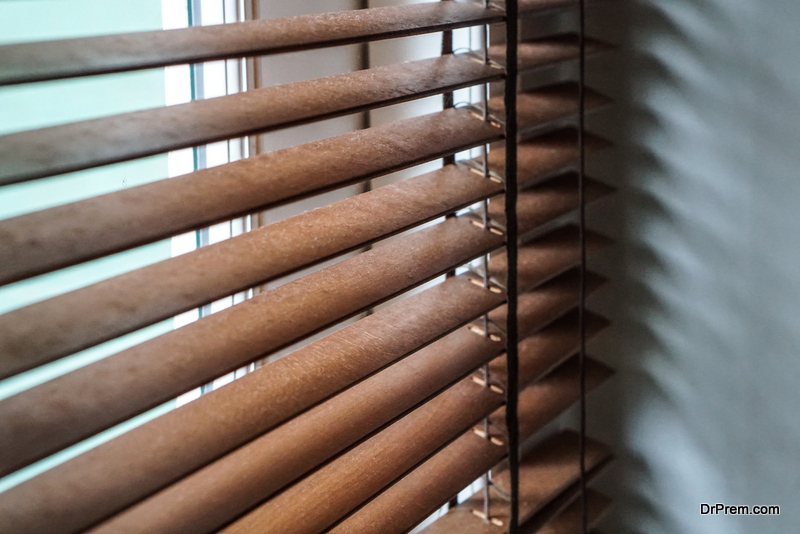 Asian design is much in demand and has found many followers who are eco conscious. Blinds made from sustainable bamboo, smooth polished stones laid out, woven tatami mats, potted plants, shrubs and greenery abound in Asian interior style.
Asian style interiors can be as simple and minimalistic as you want, or as gorgeous and opulent – it all depends on your taste and budget. The balanced, Zen style interiors give a fresh yet sophisticated look that enhances your mental, emotional and spiritual state as well.