You might think that a pool in your own backyard is a luxury you can't afford. Professional pools are expensive and require a lot of work but there are pool solutions which are much cheaper and you can swim, sunbathe or just relax with your family and friends sitting around it. You might consider above ground pools which are very reasonably priced and can be installed and maintained easily. If you are an avid DIYer, you can construct your own ground pool which will bring the cost down even more.
Advantages of ground pools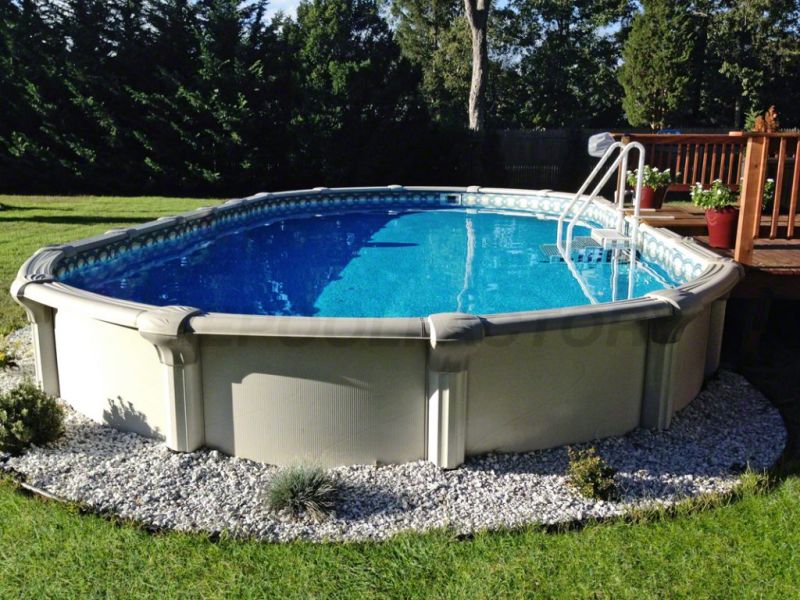 Most ground pools are pre-made or can be built easily, if you have experience in building DIY home projects. The price varies from 1,000 – 4,500 dollars and the pool is available in many sizes. They last for about 7-12 years, and feature pumps and filters which can be easily maintained.
Take a look at some unique ground pool ideas which might suit your budget:
Pallet above ground pool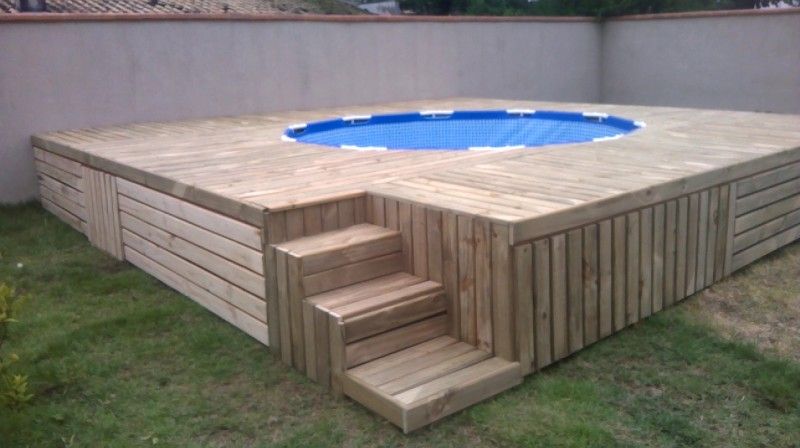 You can use pallets to make an above ground swimming pool. You can build a wooden deck too and enjoy soaking in water and the sun. But do be sure to use heat treated pallets and not those which are chemically treated. Heat treated ones would be stamped HT, so you can watch out for that.
Backyard haven
A pool in your backyard, which is private and secured as well, with a gate and a fence, so that it's not easily accessible to young children.
Pool made from a shipping container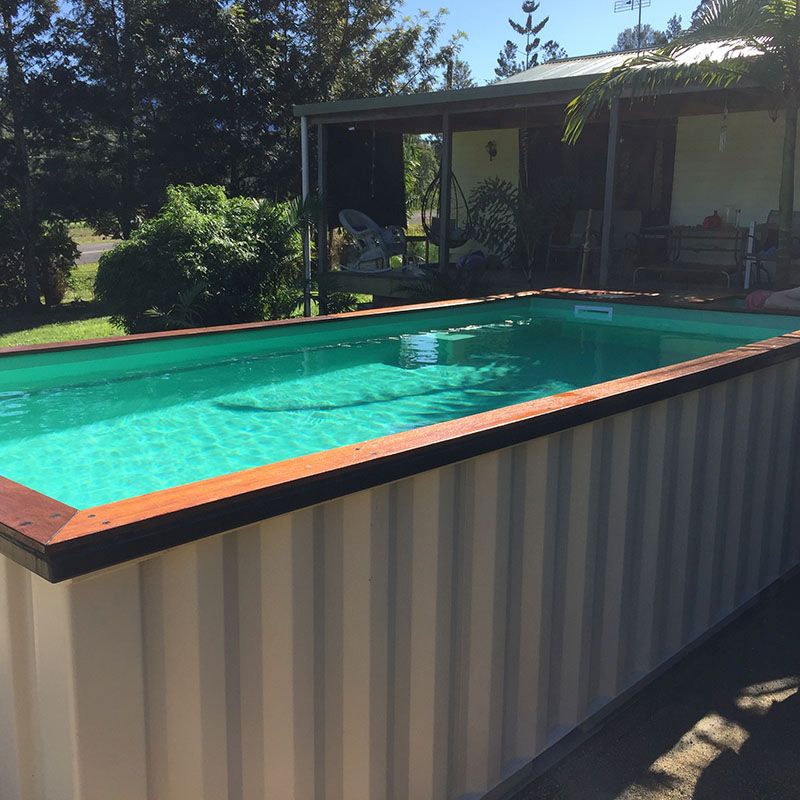 Guess you knew that shipping containers made great tiny homes and shops, but they can also be used as above ground swimming pools. It's better if you paint it, to prevent it from rusting, but you have to keep checking for rust from time to time. But it's a minor problem and you can tackle it simply by painting your container.
Ground pool in the hills
This award winning pool (for innovative ground pool design), might inspire you to design your own pool, with a similar deck which is anti-slip and safe. As the surface around pools gets splashed with water, using anti-slip materials for the deck is a great idea.
Swimming pool natural style
Natural pools do not require any concrete or tiles. You can just dig one in your backyard (check out the many tutorials available online).With just clay and gravel and aquatic plants to keep it sanitized, these eco friendly pools are lovely, fun and cost effective.
Sunken bath
This above ground pool looks like a regular swimming pool. It resembles sunken bathtubs as the wooden deck is on the same level as the pool's surface.
Galvanized steel pool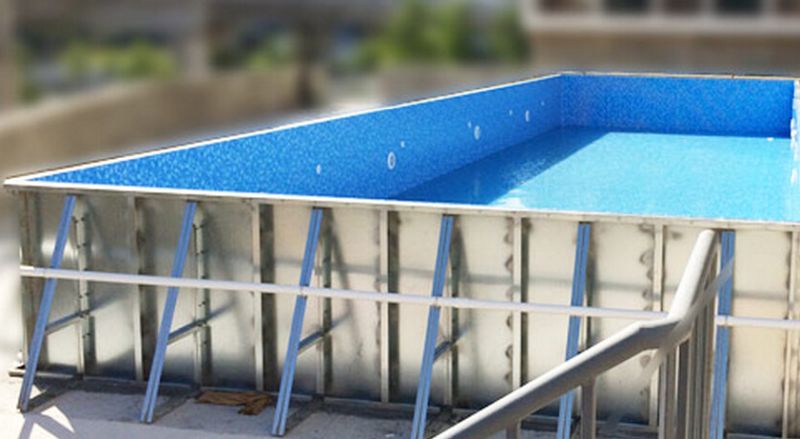 This pool is big enough for the entire family, if you manage to get hold of a stock tank like this one.
 DIY Concrete Pool
Concrete pools are very expensive, but if you are willing to build it yourself, you can build one for about 7000 dollar.  Get a family member or friend to help you, and you can have a wonderful time swimming in the pool.
Prefabricated pool
On the other hand, if you don't want to construct your pool, buy a prefabricated one. This one has steps and stone finish, giving it a stylish look.
Transform a ground pool to in-ground pool
If you like the look of in-ground pools, you can convert above ground pool to an in-ground one at a very reasonable cost. You can buy a second hand ground pool online and transform it into an in-ground pool. 
Wooden framed pool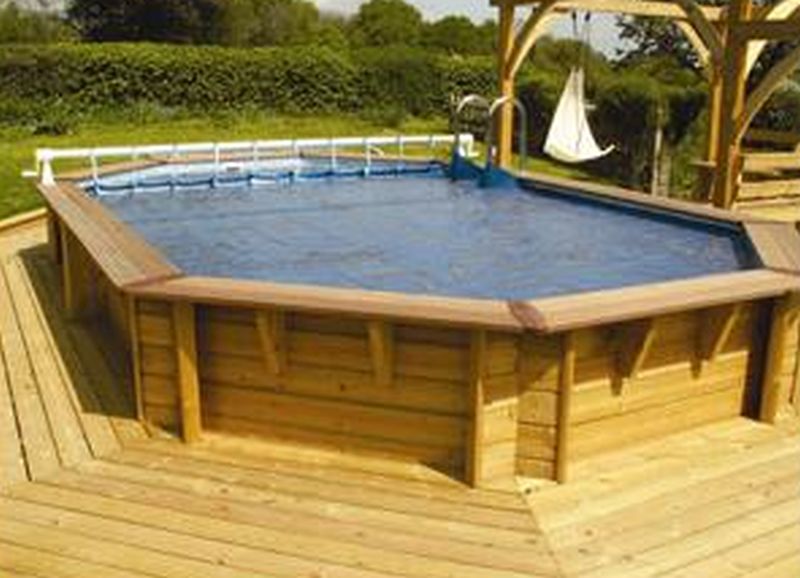 Adding a wooden frame to your above ground swimming pool makes it look grand apart from adding space to place towels and drinks.
Retractable pool cover
A ground pool with a retractable plastic cover can be easily maintained, as it will have less dirt floating in it.
Semi underground pools
Semi underground pools are usually installed when the ground is not level. The pool can have stone steps and stone deck too, which would make it look natural and beautiful.
You can add a ground pool to your yard to beautify it and have a pool of your own to relax in. Stylish pool decks, patio furniture and a landscaped yard will enhance your backyard and increase the value of your home as well.