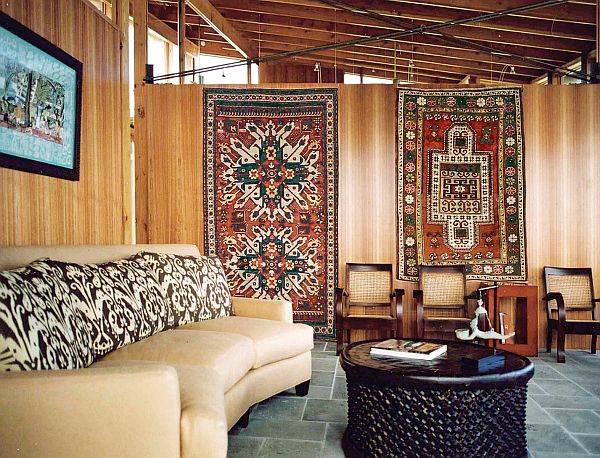 If you have too many rugs lying around the house, then here is a fun way you can use them to fill up those extra spaces on the walls. Apart from being cost effective and time friendly décor idea, this would give a unique touch to the entire room. Here are some ideas to use a rug to decorate a wall in your home.
They deserve a spot on the wall

Rugs have their own unique charisma that pulls visitors towards them. Whether they are antique or contemporary, simple or complex, serious or quirky to look at, bland or bursting with color, rugs can light up an otherwise dull looking wall like anything.
Create a unified décor look
If you haven't noticed, rugs tend to pull together the myriad furnishings in the room to create a unified look. Colorful rugs, when displayed on walls, also complement neutral walls and furniture largely. The sheer amount of detail each rug displays would be more than 2-3 pieces of traditional wall art put together. Hanging a rug on the wall would definitely set the tone for the entire room and give it that cozy feel you always wanted. Better yet, it leaves the floor free for additional décor.
They give a cultural feel to the room

Who knew that hanging a rug on a wall would lend the room a cultural feel? A bright rug with shades of brown and red works with the dresser and lends a warm glow to the white walls. On the other, a pair of rugs with Mexican Zapotec patterns, including the sheepskin seat cover and cowhide rug, lends a southwestern feel to the room.
Provide a realistic counterpoint to other furnishings

Even a modernistic room can benefit greatly from a wall hanging rug. For instance, an abstract impressionist landscape rug would look great in a modernistic white box room. In addition to complementing other colors of the room perfectly, the rug would also offer an interesting counterpoint to other furnishings in the room.
Offer an eagle's eye view of the visual interest
An aptly placed rug in a room acts as a focal point and attracts viewers' attention at first glance. Similarly, a mounted area rug would both create a unified look with other smaller accessories in the room, and place the visual interest of the room at the eye level. For instance, hanging a rug above a couch or sofa would create a resonance of the pattern echoed in the sofa and its furnishings, thereby creating an overall unified, pleasing look.
You can use two similar rugs, one on the floor and the other on the wall, to create a simple line pattern, to increases the level of interest in the otherwise neutral on neutral palette room.
Add more texture to the walls
Another major benefit of hanging a rug on the wall is that it adds more texture to the walls, if compared to illustrations, paintings and other art pieces. For instance, the modern Moroccan wedding blanket lends a bright pop to the room as well as gives it texture and added depth that is visually pleasing.
Summary
Rugs necessarily need not to be placed on the floor. You can use rugs as unique wall décor items in your home. These ideas would surely help you start your search for the perfect rugs to adorn those bland walls in your home.