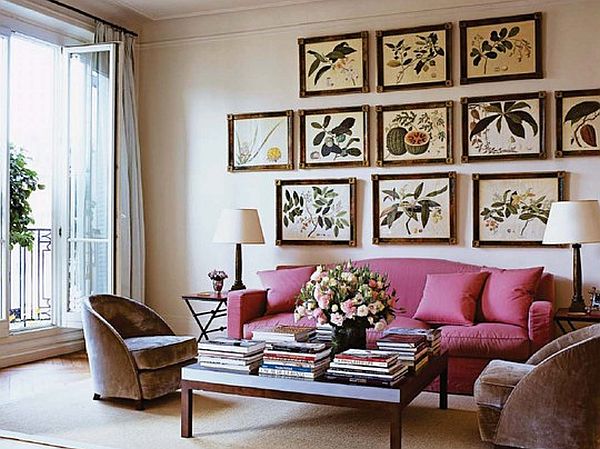 The Salon-style wall decoration trend, emerged in 1670 from the French Royal Academy of Art and Sculpture, has become extremely famous these days. The decorating style incorporates the arrangement of different types of paintings, pictures and photographs together on an empty wall to transform it from dull and boring to beautiful and dazzling. Here are salon wall décor ideas that would make your walls appear more attractive than ever before.
Natural touch:
Artwork is the best way to blend your exteriors and interiors. Framed pictures of plants, animals and birds will serve as an elegant and attractive accessory to enhance the beauty of the wall. The bright colors of the birds and butterflies will surely melt your heart away.
Putting on the Plates:
To add a culinary twist to your bare walls, you can arrange some plates and trays as an outstanding art piece for wall décor. These utensils, when arranged properly, add magic to your wall, especially to the kitchen walls, giving it an aesthetic appeal. You can even use framed cutouts of cooking utensils instead of plates and trays.
Botanical Prints:
The classic beauty of botanical prints can be captured inside frames to enhance the visual appeal of your walls. You can easily create these frames at home by using real leaves and plants or even artificial ones made from silk or plastic, spray paint and frisket. With the help of a frisket, you can outline the picture beautifully and then frame it. These look best on white walls.
Soothing Solution:
Small size prints like that of landscapes placed together in the form of grid against a soft colored wall like light blue can make the wall appear full and attractive and at the same time makes it appear soothing and relaxing.
DIY Artwork:
For those who are looking for easy to afford decorating ideas, here we are with an exciting wall decoration idea that requires nothing but a few canvases and metal repair tape. You can use the canvases and metal repair tapes together to make awe-inspiring geometric patterns, which would add elegance to any wall. The silver metal greatly complements the wall color and other accessories on the wall.
Headboard Art:
If you are planning to decorate the wall behind your bed, you can place some framed prints inside a square black frame and hang them close to each other, leaving 2-3 inches space between the edges of the frame. This will help you create a high impact wall.
Doubled Wall Art:
By combining two varieties of art forms like shadowboxes and plates, you cab beautifully dress up your wall in a unique way. First, line up shadowboxes with brightly colored paper or fabric and them place matching plates inside the boxes and help them stay in position with the help of a strong adhesive.
Book Art:
Do you have useless books at home? Well these books will remain useless no more. Collect some old books with colorful cover page. Remove the cover pages, frame them and hang them to create a literature-inspired wall for your study room. The cover pages can even be scanned and photo printed, in case the books are still in use.
Wall Letters:
Letters can be used to give an artsy feel to any of your walls. The letters can be carved using a variety of materials in different styles and sizes. Three-dimensional letters placed inside shadowboxes are even more attractive to look at. To add to the wow factor of the wall, use a large letter surrounded by several smaller ones.
Tiled Artwork:
Last but not the least, in order to make your wall stand out; you can convert any of your favorite family or personal photograph into a beautiful piece of tiled artwork.